What is Bread Lame and How to Use It?
Ellen Chou Tsingbuy 2019-04-12 14:58:04
What is bread lame?
French bread lame is the most essential baking tool and it helps baker creating more perfect cuisine. Now it is well-known as bread lame, or bread scoring lame, or dough scoring lame.  
Lame, pronounced /lame/ LAHM means "blade" in French. It used to score the dough just before it is placed in the oven. This is done to control the dough to properly expand without tearing the skin or crust during the baking process.
Genarally, bread lame is particularly used for boules and baguettes. A good bread lame must have comfortable handle to allow a firm grip and  also be designed with a stainless steel stick to hold the razor securely. The sharp replaceable razor is installed at the end of stainless steel stick to create a clean cut on the surface of the dough. Blade is held on the stainless steel bread lame by compression in good stability. It will not slide off easily if you installed it properly. What's more, the handles are designed scientifically  for stable grip.
Proper scoring with a high-quality bread lame is much too helpful for the baker to control exactly where the bread will bloom and create perfect appearance of breads. Using bread scoring lames also creates bread and loaf of varieties in forms and appearance, which could show the bread baker's artistic talent and tag a unique signature of his own brand.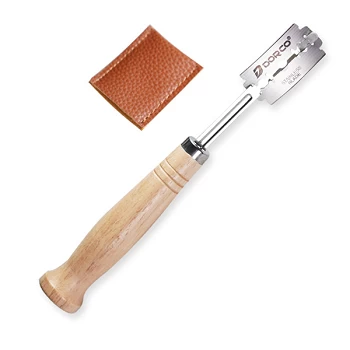 How to use the wooden bread lame?
If you have comfortable hold of bread lame, it is easy to control it as you score the dough.  
Grip the wooden handle and hold the lame at 30° to 50° angle depending on the type of bread you bake.
Make a ½ inch deep slash on the surface of the dough, with only the front corner of the blade touches the dough.
Try to do this swiftly and confidently so the bread lame just glides on the surface cleanly.
When the razor dulls, replace it according to the following installation instructions.  
Safely store the wooden bread lame with a leather cover around the razor when it is not in use.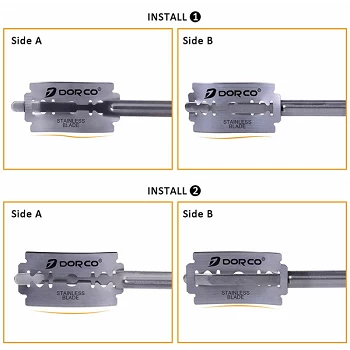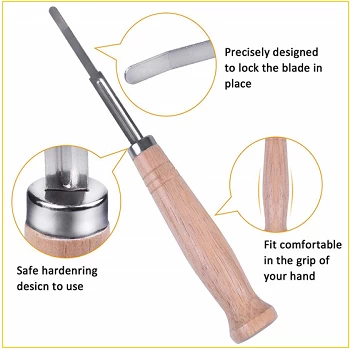 Related Product
Product A: Stainless steel bread lame with wooden handle
Stainless steel bread lame with wooden handle from Tsingbuy China bakeware manufacturer is an excellent choice for bakers. There are 5 pieces of razors in a set of bread scoring lame. It also comes with a leather cover to hold the razor when it is not in use, so to protect your fingers from hurt by the sharp blade. The good curved blades make good cuts in dough and can also reach underneath crust as you making slashes.It doesn't only make the bread appealing and professional look, but also make baking more easier and faster.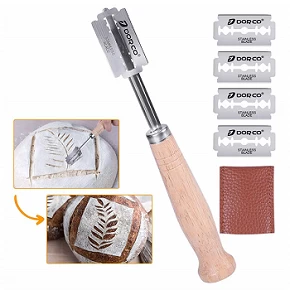 Product B: Carbon steel bread scoring lame with plastic handle TSFP01
Carbon steel bread scoring lame with plastic handle from Tsingbuy bakeware manufacturer is made of food grade ABS plastic and sharp carbon steel razor. It comes with a blade cover to store when not in use. And its curved design is suitable for bread cutting edge. But please note that the razor blade is not replaceable.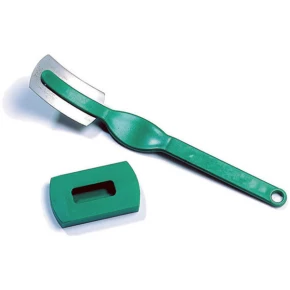 Contact us