What is the Difference between Handmade sheet pan and Machine-stamped sheet pan?
Ellen Chou Tsingbuy 2019-04-06 09:41:00
Tsingbuy sheet pan manufacturer in China has shared and will often share notes with you about bakeware products. Today, here we release this passage about sheet pans, referring to the cookie sheet on sale in China. You will find out the differences between hand-made sheet pans and machine-stamped sheet pans.
1) what is Sheet Pan?
A sheet pan, baking tray or baking sheet is a flat, rectangular metal pan used in an oven.
Professional sheet pans used in commercial kitchens typically are made of aluminum, with a 1 inch (2.5 cm) raised lip around the edge.
These pans, like all bakeware, can be made of a variety of materials, but are primarily aluminum or stainless steel. Commercial pans are sometimes made from aluminized steel which combines the conductive, reflective, and food adherence properties of aluminum, with the rigidity, mass, and strength of the inner steel core.
It is often used for baking bread rolls, pastries and flat products such as cookies, sheet cakes, Swiss rolls and pizzas.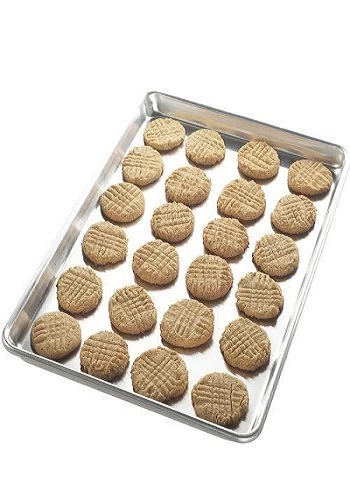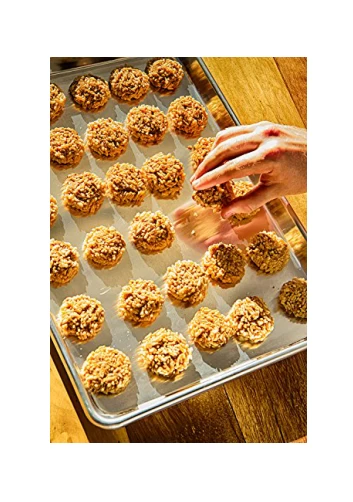 What is the Difference between Handmade and Machine Stamp?
When you talk to our sales, sometimes you be told the tray you are looking for need to have a new mould if hand-made workmanship are not acceptable for you.
Then the question comes, what is the difference.
Here I list the 2 main points:
1) handmade sheet pan is made through sheet metal custting and bending or welding, if you look into the pans you fill find there is sieve on the four corners,or corners fully weleded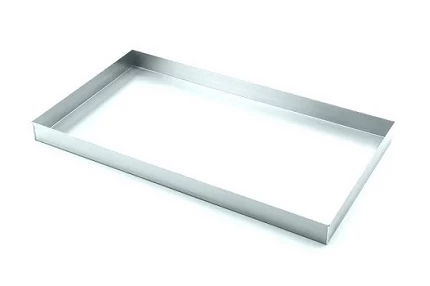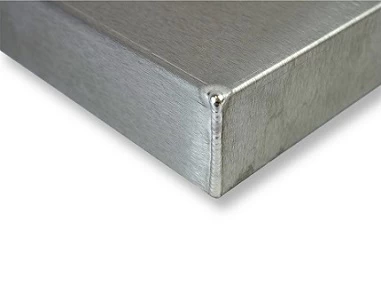 2) Machine stamp means the pan body made by mould, and stamp by Hydraulic press, in this way the tray body is in fully one full piece, without any leakage on the corners.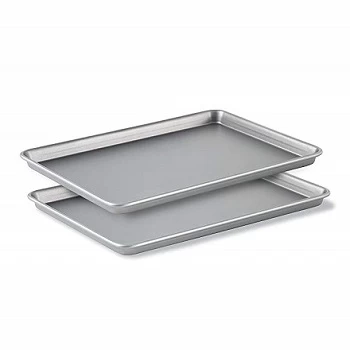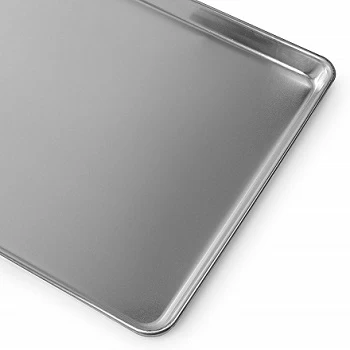 How to choose the two types?
To be frank, your budget and usage is the only criterion.
For cake products machine stamp must be needed.
For bread/cookie products,If you can reach a certain quantity(4000-5000pcs) and you have high demands for the baking sheet pan, then you should choose the machine stamp.
When you only need several hundred pieces, handmade should be the first choice considering the high mould cost.
Hope this can help you to make the wise decision.
About us
Tsingbuy Industry Limited with sheet pan factory in China, has been professional in producing cookie sheet on sale for more than 12 years. It is welcomed in bakeware industry for its quality and service, and one of the top OEM full sheet pan supplier. Besides sheet pans, Tsingbuy Industry Limited has other various series of bakeware, like baguette trays, loaf pans, cooling racks, OEM industry cup trays, bakery trolley and all kinds of customized bakeware.