Different Flavors of Delicious Bread
Ellen Chou Tsingbuy 2019-04-26 11:17:46
Note: This passage about bread is written by editor Zoe from Tsingbuy Industry Limited. If you want to reprint/re-release it or its parts in other place, please mark its source and link to our website.
Bread is always a must-have food for a fine breakfast and afternoon tea. Do you know the different kinds and flavors of delicious bread?
Today's bread can be basically divided into two categories. One is soft bread, which is preferred by Southeast Asian countries and  Japan is the most typical who likes it. The other is hard bread, also known as European bread, which is more in line with the tastes of people in Europe and other regions.
From the school point of view, bread has three genres: European, Japanese and Hong Kong. Hong Kong style is characterized by soft taste. Japanese style is fashionable and exquisite in look. European style was introduced to five-star hotels before it became popular; It has a chew of smoky and tenacious and a simple peasant taste.
Here we share 10 kinds of most popular breads with you.
1. Hard Bread/ Hard Roll
The materials of hard bread generally contain only water, yeast, flour and salt. Free of oil and sugar and any additives. It needs more time to bake than oil-contained soft bread. When it was taken out of the oven, the outside feels hard, but the inside is soft. People in European like to eat hard bread.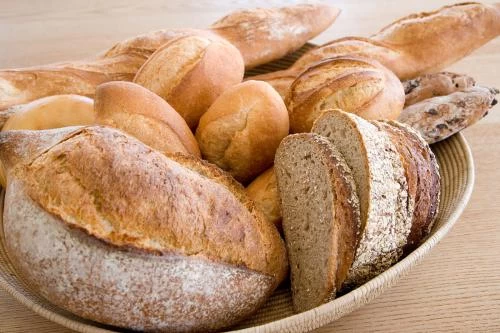 2.Soft Bread/ Soft Roll
Soft bread is the traditional sweet bread, no filling. Sometimes it is called Enriched Bread. Generally speaking, it is filled with butter and egg juice. The palate is relatively smooth and soft. Soft bread satisfies the "eat soft but not hard" diet preference of Chinese and people from Southeast Asian countrie.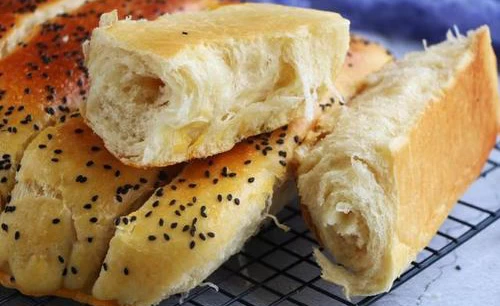 3.Baguette
Baguette is the most popular bread for French families and we often see it in movies. Its appearance is slender, brittle, hard with many air holes in it. You can first slice it and bake it with a toaster, enjoy it with a variety of dishes and salads.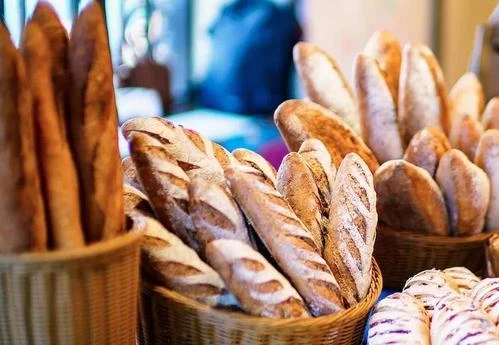 4. Panettone Bread
Panettonemeans "bread" in Italian. It is a classic bread from Milan. It is very durable because it does not contain any water. People eat it at Christmas Day in Europe.
5. Danish Bread
Danish Bread is also called crisp bread, originated from Vienna, also called as Vienna bread. It contains the highest calorie among all kinds of bread, because the materials consists of  addition of 20% butter or 30% butte. It contains high levels of saturated fat and calories. Unlike ordinary European breads, Danish bread tastes crisp but soft, and rich in milk flavor.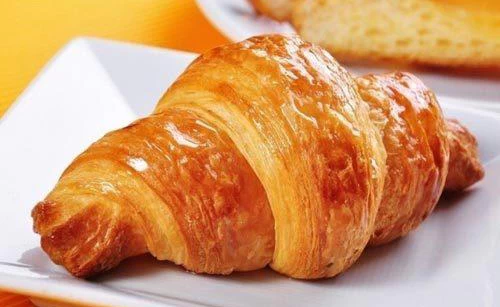 6.Brezle Bread
Brezle Bread is also known as Pretzel.Because it is marinated in the alkaline water during the making process, it was called Brezle Bread. It is healthy and good to eat. It is often called beer bread and very popular in German and Austria. It was said that no matter how much you drink beer, the Brezle bread protects your stomach from beer.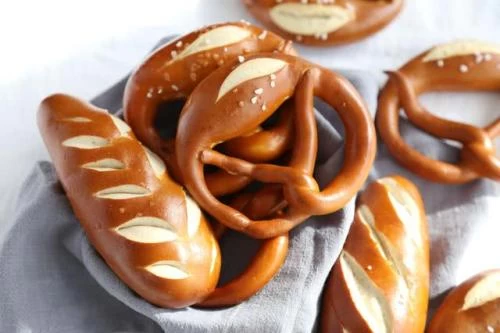 The above six kinds of bread are European bread. They are generally big, heavy, dark with hard, crisp surface and soft, tenacious inside.  European bread is made of cereal and grain.People eat European bread with salad, cheese, meat and vegetables. European bread is main food for Europeans and per capita consumption is much higher than any other regions. 
7.Berlin Bread
In Berlin of German, Berlin Bread refers to batter-cake/pancake. People even eat it on Christmas Eve and Carnival Day. It is a kind of dessert through fermentation and deep-fry. It is usually filled with jam and floured with sugar on the surface.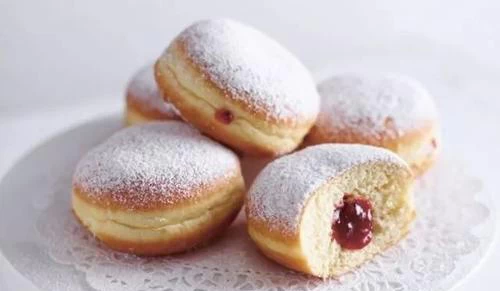 8. Toast
White Toast is mainly made from usual flour. Whole Wheat Bread is made from flour of wheat. Compered to white bread, whole wheat bread is brown in color and rough  in texture.  It has high nutrition and popular all over the world.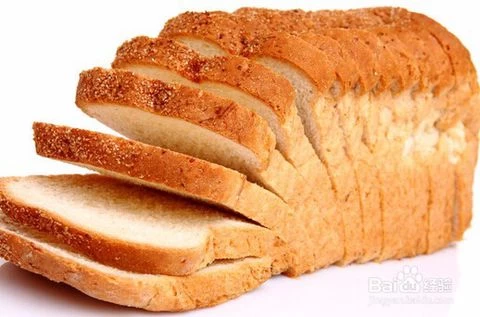 9. Doughnut
Doughnut is made from flour, cream, sugar and eggs. It is a kind of baked dessert. It is especially popular among children. It is main food in breakfast in American and and there is even a "Doughnut Day".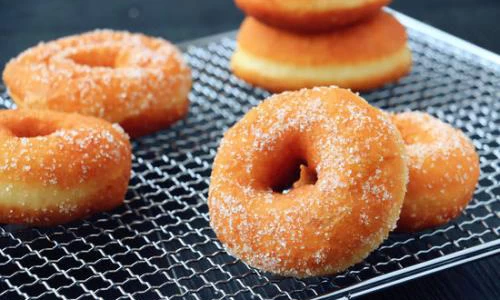 10. Waffle
Waffle is a kind of baked cookie and originated from Belgium. Its main material are eggs and milk. It was baked using special baking tray(like waffle iron) in oven. There is a variety of match to eat, like various fruits and cheese, or made into waffle sandwiches.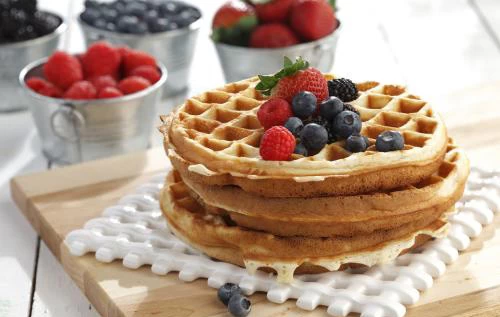 Tsingbuy Industry Limited has engaged in bakeware industry for more than 12 years and has became the leading China bakeware manufacturer. We mainly produces sheet pans, OEM industry cup tray, bakery trolley, baguette tray, cooling rack and so on for bakery, restaurant, food factory and home kitchen. You can find any bakeware you want in Tsingbuy China bakeware manufacturer and make your baking much easier with better efficiency.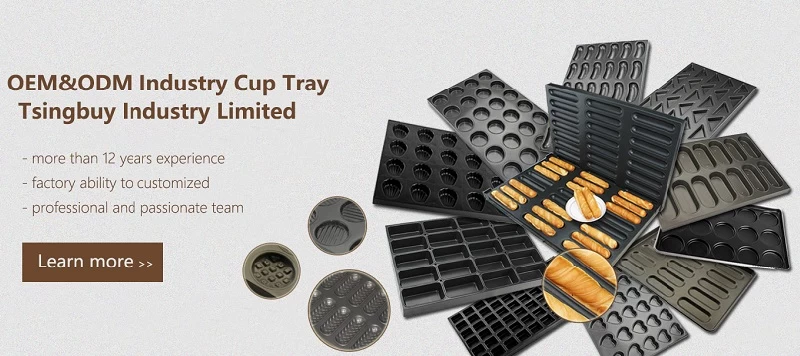 Contact us with you requirements in bakeware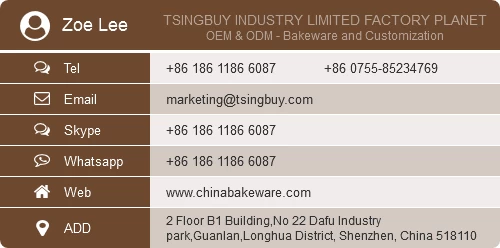 Our mainly products