What is the best size of a baking sheet pan?
Tsingbuy Tsingbuy 2022-12-22 12:55:09
What is the best size of a baking sheet pan?
Baking sheet tray is a vital kitchen equipment and it is not all created in the same size. For better baking efficiency and baking performance, baking sheet trays are made of different metal materials, different sizes and different designs. The mainly four metal materials are aluminum, aluminized steel, stainless steel, carbon steel. This material issue we will talk about in later articles. Today, we will mainly talk about the baking tray sizes, since some sizes are taken as one of the baking tray type, such as we usually speak of full sheet, half sheet and quarter sheet.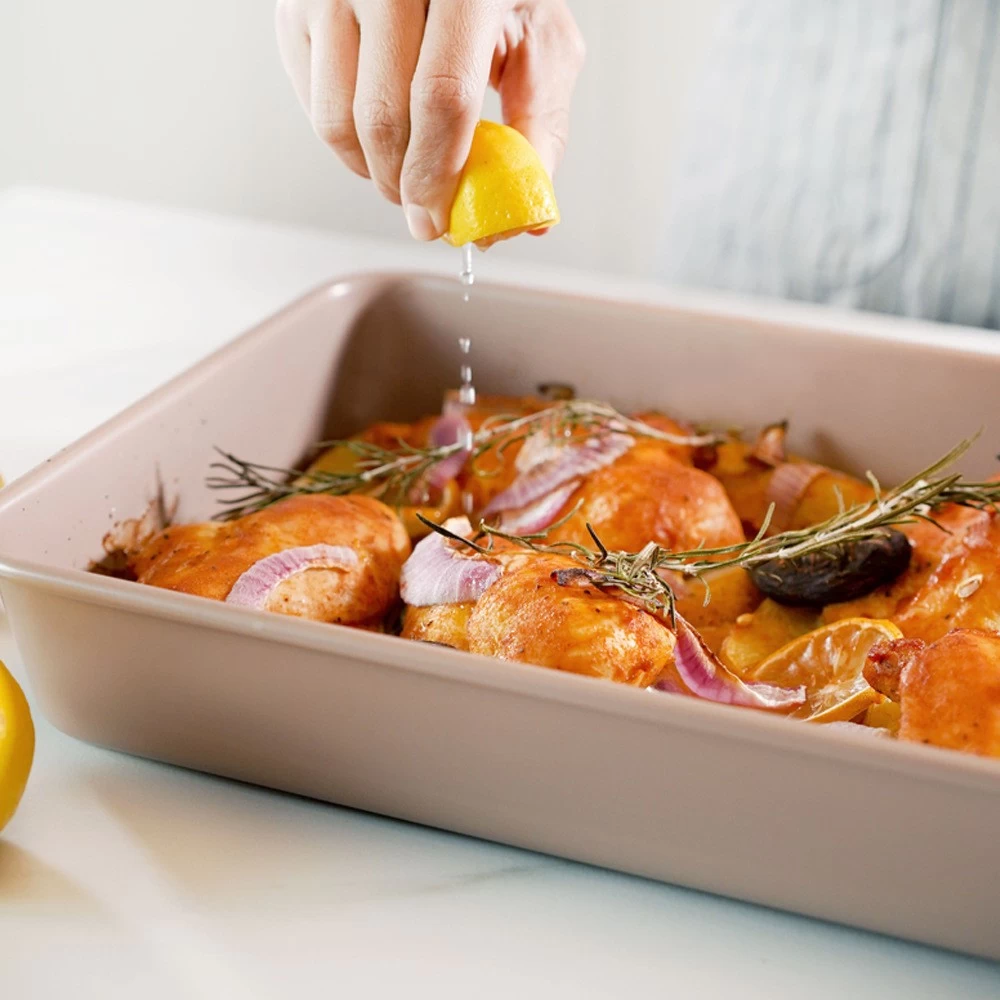 Why should we choose a best baking sheet size?
Are you spiraling when you decide you choose a baking sheet tray for your oven? There are multiple most common sizes and along with other many different sizes, what size baking sheet pan should be chosen? What should we note among different sizes baking trays, so that we can choose the best one and the most suitable one, or choose to have a set of sheet tray with several different sizes, reaching the best baking performance and highest baking efficiency, saving cost to bur more trays and saving our labor as much as possible.
What are the common sizes of baking sheet pan in the market?
Full sheet baking tray
A full sheet baking tray measures 18 by 26 inches (460x660mm) with edge wall around four sides. This size does not fit in many home kitchen ovens. Its pretty big size makes it suitable for restaurant, caterers, bakeries and it becomes the workhorse pan in commercial kitchens as it should be. For commercial use, non stick full sheet baking pan is the best choice. Tsingbuy bakeware manufacturer provides such non stick full sheet baking pan with imported food grade non stick coating (Teflon non stick coating and silicone non stick coating are optional).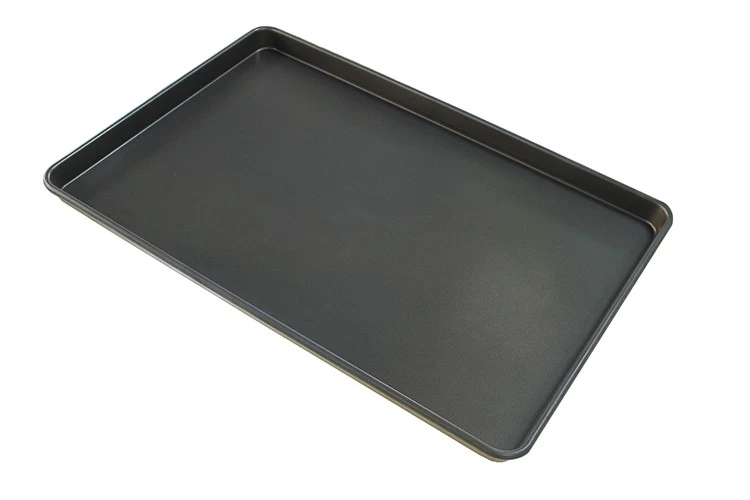 Non stick full sheet baking tray
Half sheet baking tray
As the name suggests, a half sheet baking tray is exactly half the size of full sheet baking tray. It measures 18 by 13 inches (460x330mm), also with edge wall around four sizes. This size is excellent for making a sheet-pan dinner, breakfast, dessert, rosting vegetables in home kitchen. It is in relatively small size for home ktichen ovens while has plenty of surface to spread food out, enabling it to cook evenly. It is also chosen to prefer for roasting turkey on Thanksgiving Day. Natural surface and non-stick surface are all high options. For more economical and practical purpose, we recommend high qualified Tsingbuy aluminum half sheet baking tray which is one piece machine stamped with metal wire in rim to offer extra support, not warp when baking under high temperature.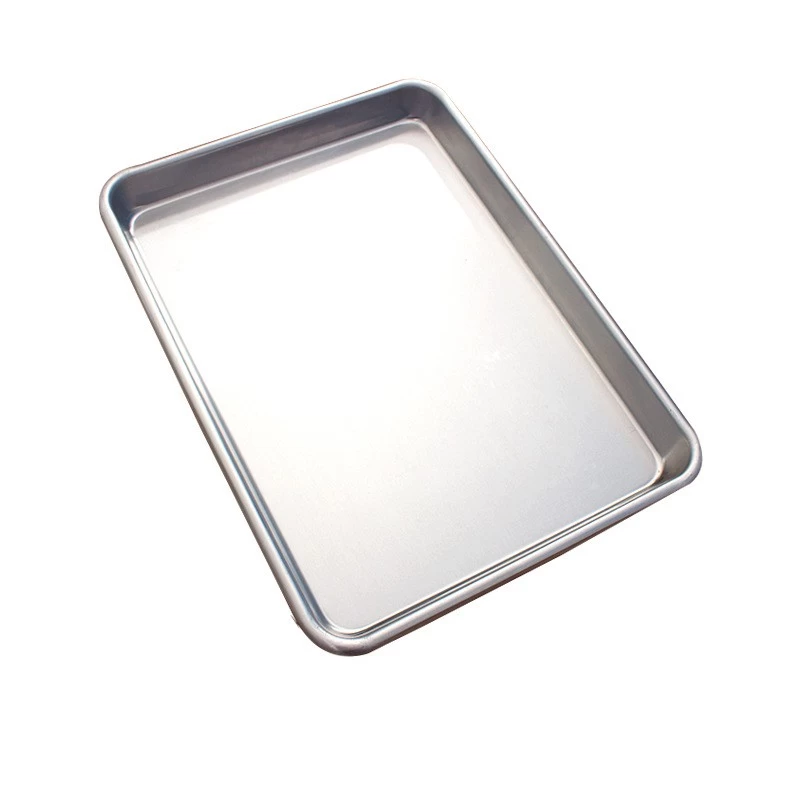 Natural surface half sheet baking tray
Quarter sheet baking tray
A quarter sheet baking tray is a quarter size of the full sheet baking tray, and half size of the half sheet baking tray. It measures 9 by 13 inches (333x243x27mm usually) with edge wall around four sides. This small size baking sheet pan is also widely used in home kitchen oven. Compared to half sheet baking tray, quarter sheet baking tray does is used for smaller batch baking and cooking, scaled down the food amount for one or two people.
Jelly roll baking pan
Some recipes may specially needs the exactly a jelly roll pan. Why? A jelly roll baking pan measures smaller than half sheet pan and bigger than quarter sheet pan. It typically measures about 15.5 by 10.5 inches with high sides, sufficient to contain the rising batter when baking in the oven. The half sheet baking pan is too big, because the cake will be too thin for making jelly roll cakes. While the quarter sheet baking pan is too small, because the cake will overflow. A jelly roll pan then is very necessary. What a quarter pan does, the jelly roll pan can also do the same and provides a bit more surface to spreading the food for better heat conductivity and cooking performance.
Cookie sheet
Cookie sheet is different from regular full sheet, half sheet, quarter sheet, jelly roll pans on the bottom and edges designs. Cookie sheet has flat bottoms and does not have raised sides. This design ensures each cookie in perfect size when maneuver batter with a spatula, since there are no edges in the way. It also ensures baking evenly for the cookie placed all over the sheet. What is more, it is much easier when pouring out the cookies after cooling without high sides on the baking tray. For this point, U shaped cookie baking sheet tray is designed and very popular, as it will prevent cookies sliding off from two sides. The cookie sheet size had multiple choices and you can choose the right size according to your oven size.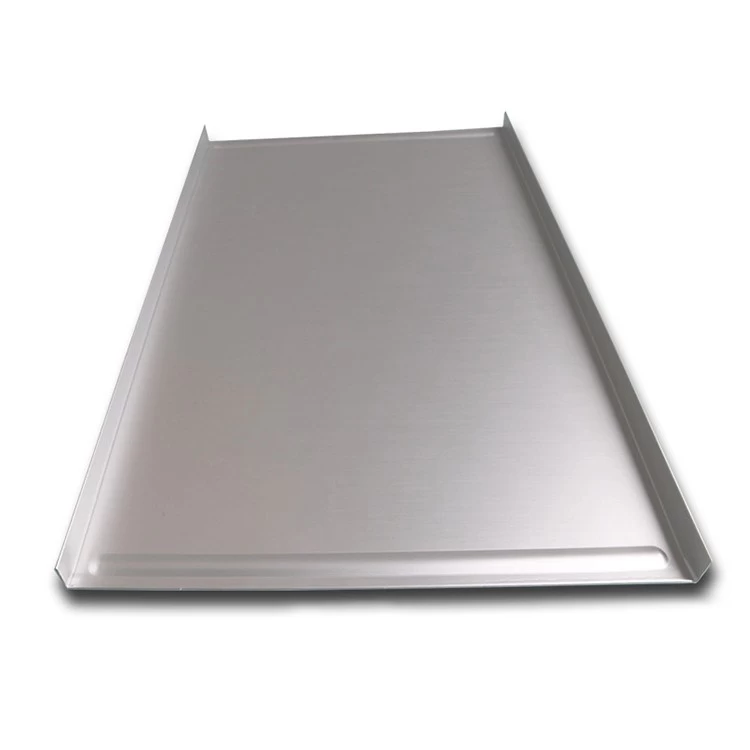 U shaped cookie sheet baking tray
What is the best baking sheet tray size for home kitchen, restaurant, bakery and food factory use ?
As a conclusion, different baking sheet tray sizes suits different baking enviroment and ovens. For caterers, bakery, restaurant, full sheet pan is the best choice in sizes. For home kicthen oven, half sheet and quarter sheet are recommends. For baking specific jelly roll cake in home kitchen, we recommend a professional jelly roll pan, while baking cookies or biscuits, we recommend the cookie sheet baking tray.
At the same time, I have to mention one thing. For bakery and restaurant use, full sheet baking pan is not the only one best choices. There are many other close sizes for commercial baking tray, such as 400x600mm, 400x720mm, 600x800mm and so on. Our factory has also custom made many different large size baking trays for commercial use in bakeries, restaurants, food factories. If you have your own customized bakery trolley rack, or automatically machienry production lines, customized baking tray size is necessary to match with them. Tsingbuy baking sheet pan factory is rich in experience of providing ODM&OEM service of commercial baking trays with over 15 years devotion and development. Whether you are looking for a regular size baking sheet, or seeking for a custom size baking sheet, coming to us is best choice. Know more about us by a short company video.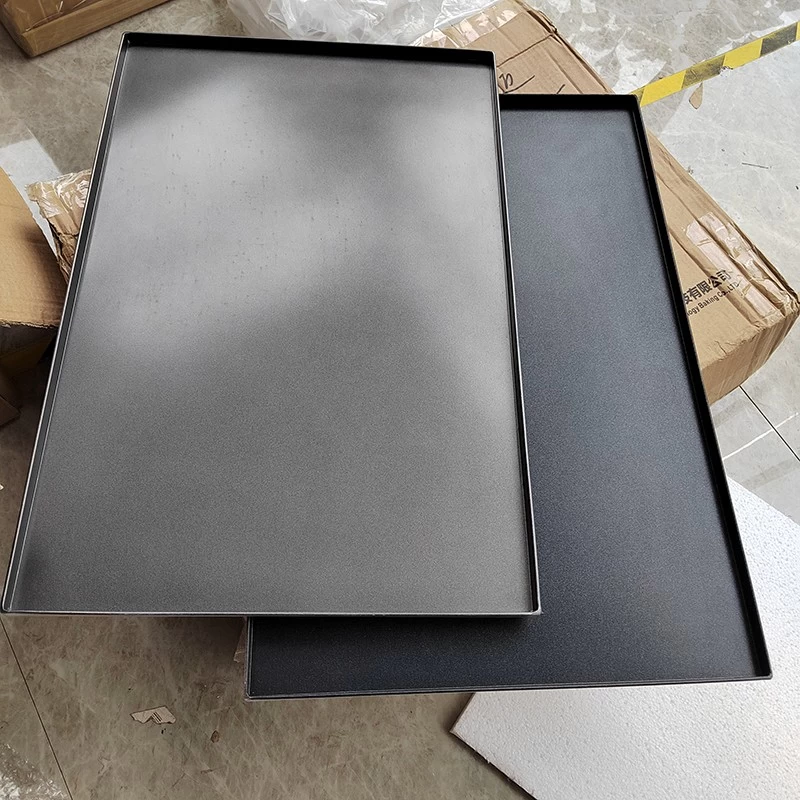 Customized 600x800mm large size metal baking sheet pan
How to get a baking sheet tray with best customized size?
Coming to us for regular size baking sheet is easy. If you are looking for customized size baking tray, here is our main flow for your reference.
1. Send us an inquiry, telling us the baking sheet size you need.
    Tell us the following points as more as possible, so that we can save time on emal communication
     - Quantity.
     - Material (aluminum / aluminized steel /stainless steel / carbon steel).
     - Surface (natural/ Teflon non stick/ silicone non stick ).
     - Other designs (sides, perforation, corrugation, etc).
2. We will make a professional chart with each details for confirmation.
3. A sample will be made for confirmation.
4. Batch production and shipment.