What is the best metal material for a baking sheet tray?
Tsingbuy Tsingbuy 2022-12-31 12:55:44
What is the best metal material for a baking sheet tray?
Besides baking sheet tray sizes, the metal material types of pans for baking is also an important point that you should consider when you decide to add some new baking sheet trays for your kitchen. The metal material of the baking sheet tray makes a great sense in your baking results and bakeware's service life. So, read on to learn about the main metal materials used to making baking sheet trays and how they differ, then, you can make professional choices to take the most appropriate baking sheet which will bring you the best baking results.
Metal baking sheet tray is still the leading role.
Any certain baking pans in certain materials has its pros and cons. The main materials of baking pans in the market include stainless steel, copper, aluminum, carbon steel, cast iron, ceramic, and silicone, which is especially becoming more and more popular in these two years, for its non stick characteristic and various modeling molds. There are still many people stop when facing the silicone baking trays, worrying about its safety, durability and cost of upgrading. This is totally the truth. Metal baking sheet is still the leading role in baking tray market with its features of food safe, excellent heat conductivity, good durability, long service life and low price.
Which is the best metal baking tray material?
Different metal materials has different characteristics and suits to different baking environment. Lets have a look at these metal materials.
Aluminum Baking Sheet Tray
Among all the metal baking sheet tray, aluminum baking sheet is definitely the all-around winner for its good heat conductivity, light weight nature, evenly baking performance and durability while you can but it at low price. Aluminum baking sheet are not non-stick, so greasing on the tray surface is necessary before you use it to baking. For best baking results, we can choose the heavy-gauge aluminum rather than thinner aluminum alloy, which is less expensive but may warp when baked under high temperature. Heavy-gauge aluminum baking sheet tray is more durable and can be in served for longer time. Tsingbuy provides 1.2mm thick heavy gauge aluminum baking sheet tray by machine stamp, custom size is available.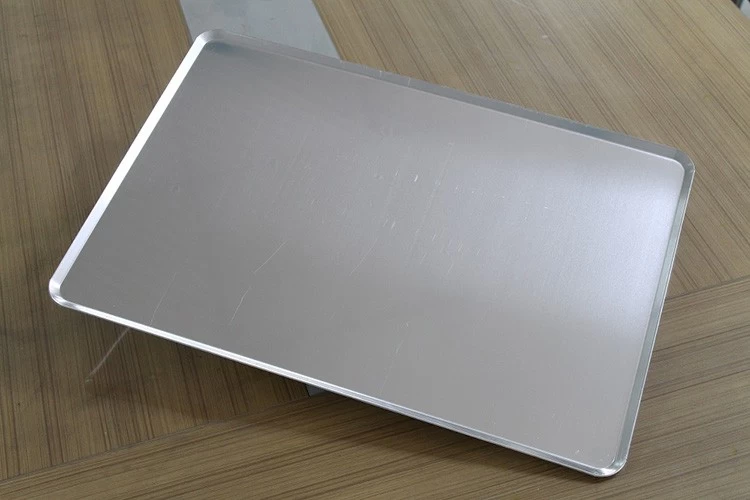 Anodized Aluminum Baking Sheet Tray
Anodized aluminum baking sheet tray is popular metal baking sheet tray too. It is made by anodic technology treatment on aluminum baking sheet tray. The common purpose is to prevent aluminum element from separating from the baking tray at high temperature, so as to isolate and not damage human health. Anode coating is an electroplated film. A protective layer is made on the surface of aluminum alloy, which makes it difficult for aluminum element to decompose and separate out. Therefore, it has a protective effect on both the baking tray products and the human body. However, the texture is relatively soft, so it is not allowed to scratch. Be careful not to use hard things for cleaning. Tsingbuy provides multiples sizes of anodized aluminum baking sheet tray for home kicthen and bakeries.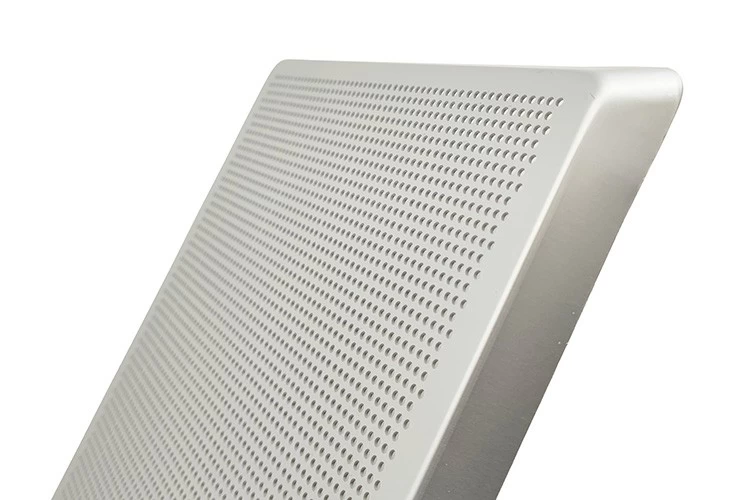 Aluminized Steel Baking Sheet Tray
As glossary explains"Aluminized steel is steel that has been hot-dip coated on both sides with an aluminum-silicon alloy. The silicon provides adherence of the aluminum, which then protects against corrosion, allowing for the use of the product without worrying about rust. The aluminum in the coating forms aluminum oxide, which is transparent and not noticed, but which protect the underlying surface from reactions with the atmospheric oxygen. The aluminum is also non-reactive to foods and is therefore favored for baking applications." Aluminized steel is now commonly used in baking trays. Its resistance to high temperatures makes it ideal for incinerators, ovens, heaters, kitchen ranges, and barbeque burners. Additionally, the aluminum-silicon coating doesn't rust or affect the flavor of food, making it sanitary for baking pans, baking sheets etc both in home kitchen and bakeries. Its resistance to corrosion, meanwhile, makes it great for HVAC components and pipes in industrial facilities that carry corrosive liquids. Aluminized steel baking tray with custom sizes for commercial use is one of our best selling baking sheet trays.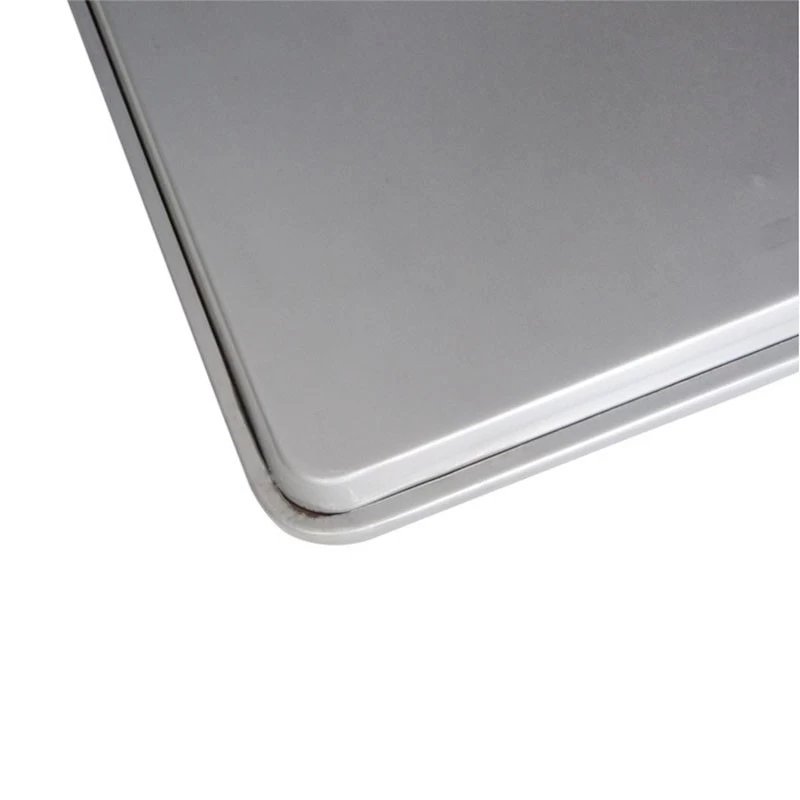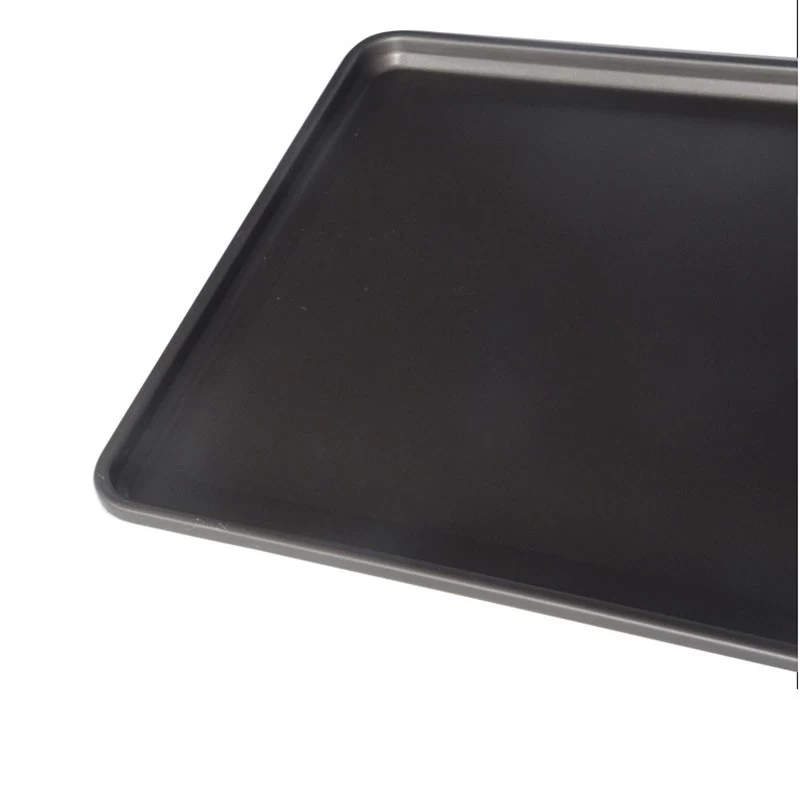 Stainless Steel Tray
Stainless steel is durable and food safe metal material for food trays. Besides bakeware, stainless steel is used for a wide variety of other kitchen supplies both in home kitchen and commercial bakeries. However, stainless steel is a poor heat conductor, it is rarely used bakeware such as baking tray, baking pan, baking tin molds, but more frequently used as food storage trays, food preservation tray, restaurant serving tray, buffet food display trays etc.
Non Stick Carbon Steel Baking Sheet Tray
Much like Cast Iron, Carbon Steel is an alloy, or metal mixture, made up of iron and carbon. One of its main distinguishing feature is that carbon steel is lighter in weight and more durable than its Cast Iron counterpart.
Carbon Steel can withstand temperatures up to 1200F, and responds to changes in temperature extremely quickly. It's non stick coated surface is food safe and widely used in various baking trays.
Carbon Steel baking sheet tray combines the best qualities of stainless steel and cast iron materials. Made from a blend of iron and carbon, it has the heat control and baking speed of stainless steel along with the heat retention and non stick properties of cast iron. Carbon steel baking sheet tray is mainly used in home kitchen.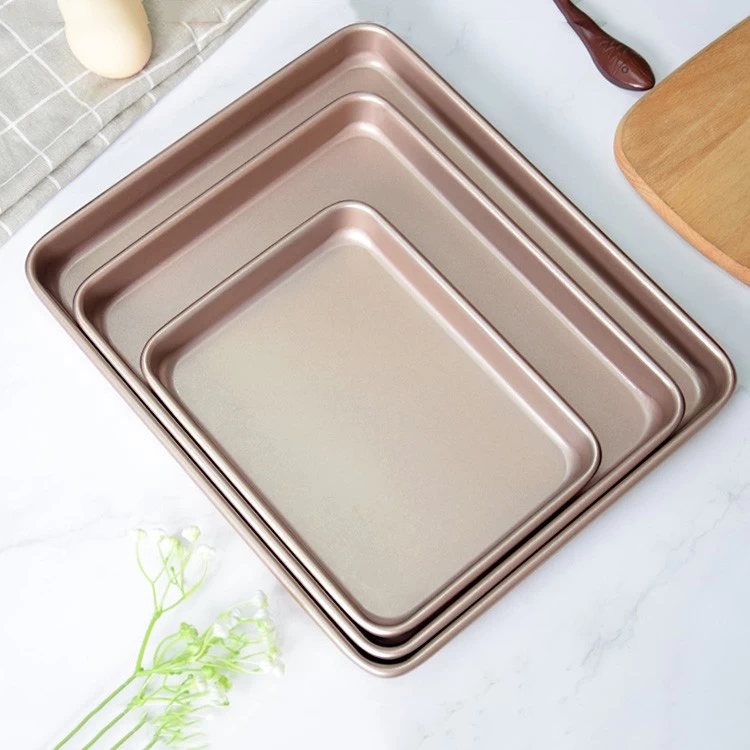 What kinds of baking tray material do professionals use?
Generally speaking, carbon steel baking sheet tray is used in home kitchen. Aluminum baking sheet pan is used both in home kitchen and commercial bakery, restaurant. Aluminum material is more durable than carbon steel material. Aluminized steel baking sheet tray is more widely for commercial and industrial use in bakeries, restaurants, food factories for its super durability.
How to get a customized baking sheet tray?
Tsingbuy baking sheet tray manufacturer provides professional ODM&OEM service for bakeries, restaurants, hotel kitchens, food factories. If you are looking for customized size baking tray, here is our main flow for your reference.
1. Send us an inquiry, telling us the baking sheet size you need.
2. Tell us the following points as more as possible, so that we can save time on emal communication.
     - Quantity.
     - Material (aluminum / aluminized steel /stainless steel / carbon steel).
     - Surface (natural/ Teflon non stick/ silicone non stick ).
     - Other designs (sides, perforation, corrugation, etc).
3. We will make a professional chart with each details for confirmation.
4. A sample will be made for confirmation.
5. Batch production and shipment.