What is traditional danish dough whisk?
Zoe Lee Tsingbuy 2019-07-16 09:03:06
A traditional dough whisk is a cheap, compact, flexible and convenient pastry tool. It deserves to be owned by every baker and housewife. It is made by stainless steel wire with a wooden handle. However, it a little pastry tool, here I would like to introduce its advantages to you. And i believe you will like it.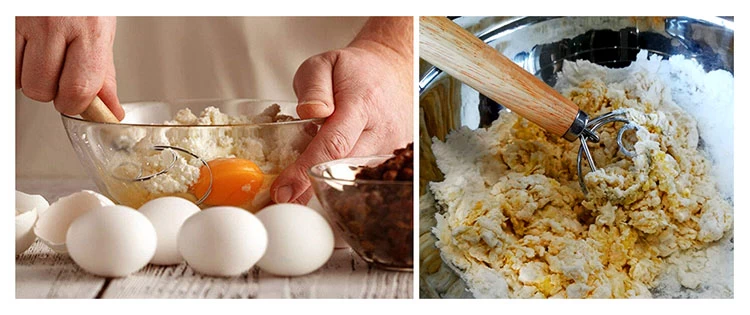 This small stainless steel dough whisk is EASY TO MIX FLOUR. While we making pasta food, we usually add water and other ingredients in the flour to mix them, so a dough whisk is the best choice for you , you can do this thing easily and save your power and time. It is FUNCTIONAL and very suitable for the production of pasta, such as bread, cakes, biscuits, pizza, etc. A danish style design is simple and stylish, ergonomic, easy to store easy to clean.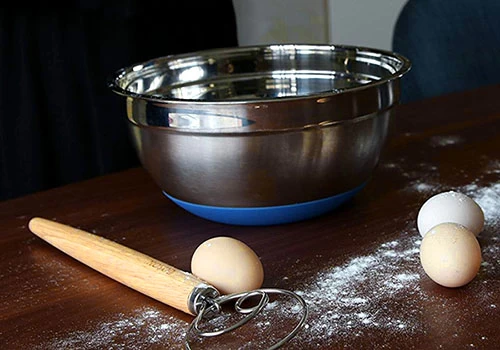 Here we recommend a high quality and food-safety certificated dough whisk from Tsingbuy China pastry tools supplier.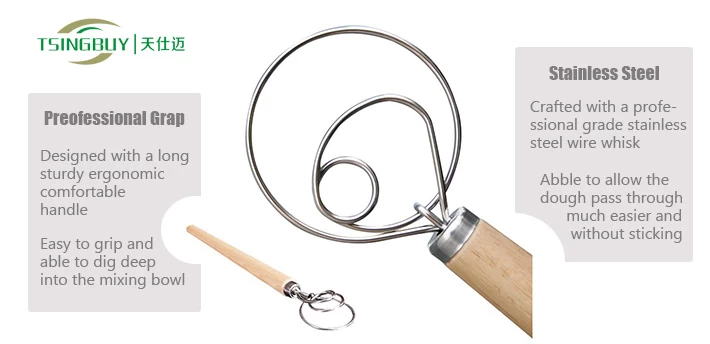 High Quality and Food Safe
Our danish dough whisk features a unique coiled stainless steel wire design and a comfortable wooden handle for easy gripping to ensure it will not rust, break, or bend easily. Using food grade materials, absolutely safe touch food directly.
Smart Design
Tsingbuy traditional danish style dough whisk is designed with a long sturdy ergonomic handle, allowing dig deep into the mixing bowl easily. It is constructed with durable stainless steel wires with strong strength  that allows the dough to pass through easily. The traditional danish whisk easily combine wet or dry ingredients, without getting it all over my hands.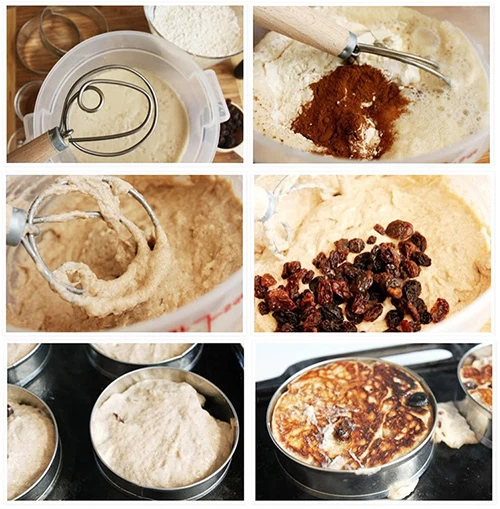 Easy to Clean
The dough won't get caught in the wires, and won't clump in the center of this pastry whisk, making it much easier for cleanup. More efficient, Spend less time cleaning.
Great for All Pasties and Cakes
This lightweight dough whisk is a much efficient kitchen baking tool. This kitchen aid whisk for kneading and mixing the stickiest dough, folding almost any ingredients by hand in no time much easier. Perfect for dough to making pizza, pie crust, pasta, pastries, or artisan bread.
What You Get
The traditional danish style stainless steel dough whisk with wooden handle is packed in OPP bag.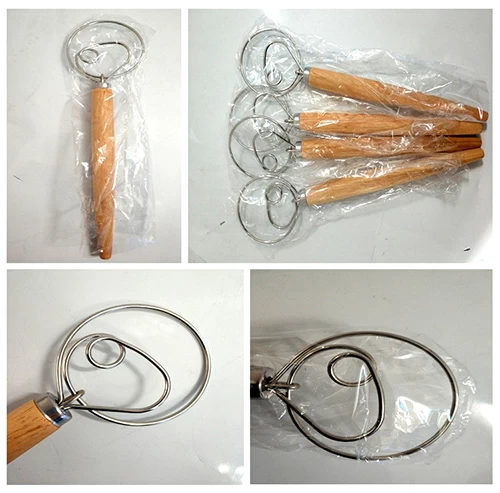 About us
Tsingbuy Industry Limited is the leading China bakeware manufacturer and baking tray manufacturer. We have been always striving to producing the best baking products, raging from sheet pans, loaf pans/toast tins, baguette trays, OEM industry cup trays, cooling rack. We dare to say that we are also rich in experience as bakery rack supplier China. We supply many other series of bakeware tools to baking related tools like banneton baskets, PP baskets, bakery couche, baking mat and so on. Tsingbuy China pastry tools supplier also supplies various accessories to enhance your efficiency on dough related job. We have many successful and pleased customization cases by cooperation with International customers. Pastry and cake tools are one of the largest selling series. We also have factory ability to provide customized service with professional team.
Contact us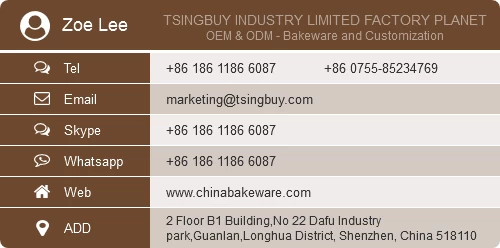 Main products from Tsingbuy China bakeware manufacturer