Different Pizza Pans and How to Choose it?
Ellen Chou Tsingbuy 2019-05-03 08:14:42
Note: This passage about pizza pans is released by editor Zoe from Tsingbuy Industry Limited. If you want to reprint/re-release it or some parts of it in other place, please mark its source and link to our website.
The choice of pizza pans is not random. Different types of pizza pans are suitable for different types of pizza, thus creating different flavors of pizza crust. The pizza pans can be used not only in commercial pizza ovens, but also in other types of ovens. Once we decide which flavour of pizza crust to make (thin, crisp, soft, burnt...) that we should alao choose a kind of oven and baking tray. Anyone who wants to bake a perfect pizza needs to carefully select a desirable pizza baking pan. Only by understanding the different types and applying scope of pizza pans can we select the most suitable one for our baking needs.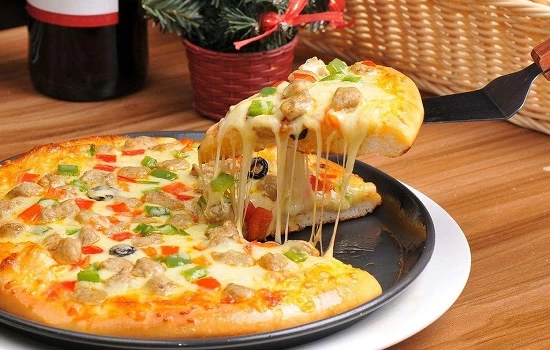 Part One: Different Types of Pizza Pan
1.Regular Pizza Pans
Regular pizza pans is generously made of aluminium or alumina, and has been anodically hardened. It is strong and durable, fast heating and good heat-distribution. It is suitable for various commercial ovens. It is usually used to make New York thin-bottomed pizza. The bottom of New York pizza is thin, soft, and especially easy to fold.
Conclusion: It can be used for baking, slicing, displaying and so on. It is multi-purpose, time-saving and easy to clean. But after repeated use, aluminium may soften and leave traces of cutting, and it will become thinner over time.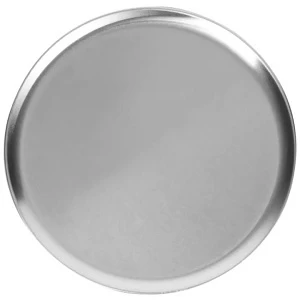 2.Deep Dish Pizza Pan
Deep dish pizza pans are usually made of aluminium or stainless steel, etc. They are all suitable for commercial ovens. But they are specially for baking Chicago deep-dish pizza. Higher and deeper inner walls make the pizza crust more crisp and chewy.
Conclusion: They are very durable. But don't rinse to clean and don't refrigerate. It's better to store it in a dry place.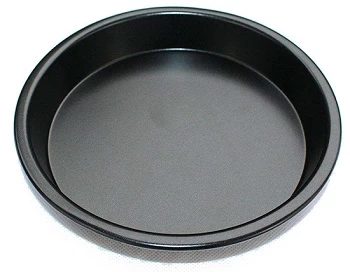 3.Square Deep Dish Pizza Pans
Most square deep dish pizza pans are made of aluminium or steel. They are very suitable for the daily use of commercial pizza ovens. They are mainly suitable for baking Sicilian pizza. The bottom of the pizza is thick and soft, and it tastes chewy.
Conclusion: A type of thick and durable pizza pan, but only for Sicilian pizza.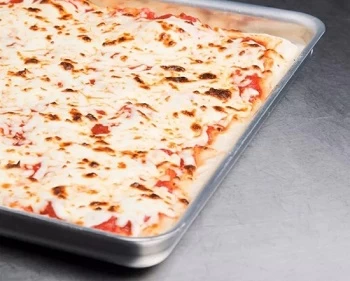 4.Pizza Screens and Disks
This is a popular type of pizza baking tray. Generally they are round design and light in weight. Except for the edge of the tray, the body is uniformly arranged sieve structure. Thus, to the greatest extent, they ensure the free flow of air, increase the heat penetration a great deal, allows excellent heat distribution and make pizza mature more evenly.
Conclusion: It is only suitable for the baking of thin-bottomed pizza and effectively improves the baking efficiency. However, after baking, you need to use grippers or pizza spade to separate the pizza from the baking pan and transfer it to the service board to cut, not directly on the screen.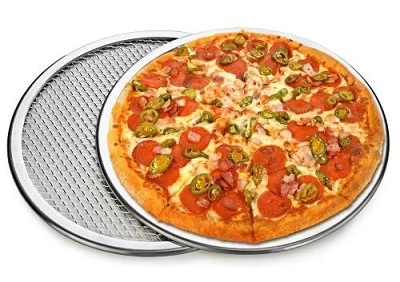 5.Pizza Stones
Pizza shops usually use pizza stones to bake delicious pizza. Pizza stones are generally much too thick, with ceramic and cordierite materials. The crust of pizza baked with pizza stones are very crisp and chewy, which is the inherent quality of Greek flavour pizza.
Conclususion: Pizza stones need to be preheated in oven before baking pizza. Otherwise, the rocks will crack easily when the temperature rises sharply. Direct cutting of pizza on pizza stones is not supported. And when you place the dough onto the pizza stone bafore baking, you need to sprinkle some flour or cornmeal to avoid stickiness.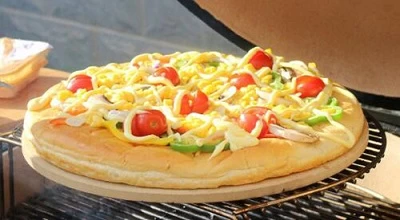 6.Cast Iron Pizza Pans
Cast iron pizza pans are magical existence. They can be used as a pot or directly baked in the oven. The round pan edge not only supports the shape of the pizza edge, but also brings the charred crust flavor, similar to the traditional Napoli pizza. And the heat preservation performance of cast iron pizza pans is very good.
Conclusion: In order to ensure excellent heat distribution as far as possible, it is necessary to pre-heat the cast iron pizza baking tray before use.

7.CAR Pizza Pans
CARpizza pans are suitable for any commercial oven. With sharp top edge, they allow you to remove excess crust with rolling pin, so that to make the shape and size of pizza are the same.
Conclusion: Suitable for many types of pizza, and the final shape of the crust depends on the style of the pizza.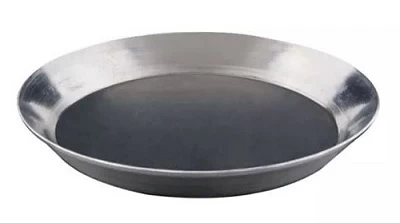 8.Wide Rim Pizza Pans
Wide rim pizza pans have wide-edged design and allow cutting andslicing pizza easily. Most of the time, we can use the wide rim pizza pan displaying pizza to serve customers.
Conclusion: Generally speaking, most of the time wied rim pizza pan are not used for baking, so they do not affect the flavor and texture of pizza.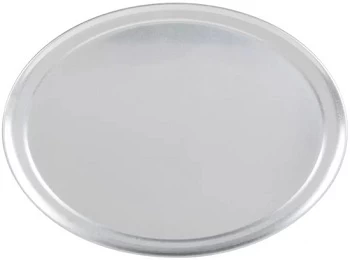 9.Disposable Pizza Pans
Many disposable pizza pans are very safe and hygienic with feature of high-temperature resistance. The commonly used materials are aluminum, plastic and cardboard. The disposable pizza pans need no cleaning and bring a great convenience. Some of them have lids so that customers could carry them home directly. Disposable pizza pans can save a lot of labor costs during promotions at pizza shops.  They are suitable for pizza styles with soft crust.
Conclusion: The disposable pizza pans are obviously not as practical as the repeatedly used pizza pans, and have certain limitations in using scale. Because they are hardly reused, the cost of purchasing is higher than other types of pizza pans in total.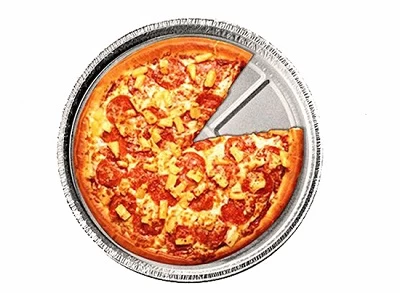 Part Two: Pizza Pans Bottoms
The bottom of pizza pans also have different patterns, such as smooth solid, nbbed, perforated and super perforated. The different designs of the pizza pan bottom are to bake a more perfect pizza, allowing the air flow more freely and heat penetrate more evenly.
1. Solid
The bottom is smooth without perforation or nibs. It's the most common pizza pan bottom. Solid bottom gives baked pizza crisp edges and a soft base. It can also be directly presented to customers as a service board.
2. Nibbed
The bottom is characterized by uneven touch, which can speed up air circulation, improve baking efficiency, better precipitate moisture from the bottom of the pizza, and make the pizza crust more fragrant and crisp.
3. Perforated
The bottom is a uniform sieve hole design for quicker heating and better heat distribution. It shortens the baking time, making the pizza crust more crisp.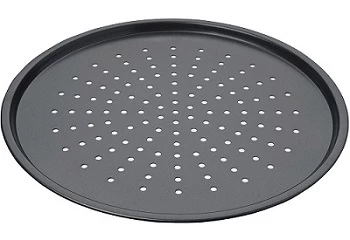 4. Super Perforated
The sieve holes at the bottom are much more dense, which can effectively prevent the stickness between dough and baking tray, further increase the brittleness of the pizza bottom and shorten the baking time.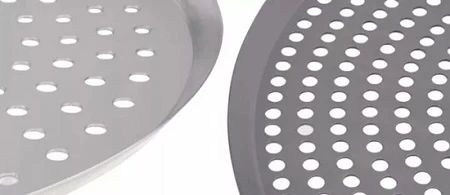 Part Three: Pizza Pan Thickness
The thickness of the pizza pan is directly related to the crispness of the pizza crust. The thicker the pizza pan, the more difficult it is for heat to penetrate the pan and the longer it takes to bake the pizza. The pizza crust baked in this way will be very soft and chewy. Conversely, heat penetrates the thin pizza baking pan, in which way it bakes faster, and the crust of the pizza is relatively more crisp. It should be noted that the thickness of the pizza pans varies slightly due to different manufacturers, different production equipment and different manufacturing processes.
Part Four: Pizza Pan Coating Treatment
Coating the pizza pans will make it easier to clean up and maintain, as well as extending their service life. In addition, some coatings also affect the baking time.
1.Lightening or Deepening of the Pizza Pans
When choosing a pizza pan, there are usually colors of bright and black. Deepening the surface helps to retain more heat and speed up the baking time. The lightened pizza pan reflects heat and delays the baking process.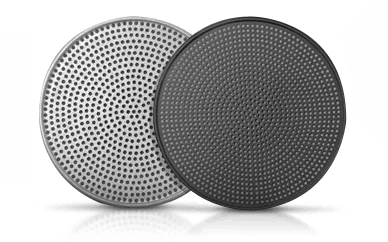 2.Anodic Hardening Coating Treatment of Pizza Pan
Anodic hardening coating is a corrosion-resistant anodic oxide film and will not fall off. After treatment, the color is dark black with excellent thermal insulation effect and can significantly shorten the baking time. In order to keep the anodic hardening coating from being damaged, it is necessary to brush a layer of edible oil onto the pan and put it into the oven for empty baking beforeusing. After that, there is no need to wash and can be reused avoiding stickness.
Most of the pizza pans need to be brushed oil and baked in the oven for the first time in order to obtain a longer service life and effectively prevent the bottom from stickness.
Part Five: Maintenance Note
The pizza pans need to be cleaned up only When they accumulate a lot of dirt after many times of using.
Use soft sponge as far as possible to handle it gently.
Never use hard cleaning tool. Avoid the corrosion of acid and alkaline detergents.
Keep these noted to ensure their service life and performance as far as possible.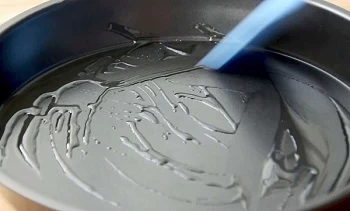 About us
We are the leading China bakeware manufacturer and has been striving to producing the best baking products, raging from sheet pans, loaf pans/toast tins, baguette trays, OEM industry cup trays, bakery trolley, cooling rack and many other series of bakeware tools to baking related tools like banneton baskets, PP baskets, bakery couche, baking mat and so on. We have many successful and pleased customization cases by cooperation with International customers.
What is more important, our factory ability to customize bakeware in China helps you grasp opportunities in your market and makes you much more competitive in price. In other words, we are absolutely professional and reliable OEM full sheet pan supplier, Baguette tray manufacturer China, China bakery rack factory, Multi-mould pan manufacturer China, strap loaf pan supplier, cooling rack manufacturer in China - a full-scale China bakeware manufacturer producing many other baking related series.
Contact us