Different Materials of Baking Tray
Ellen Chou Tsingbuy 2019-05-17 10:18:21
Note: This passage is released by editor Zoe from Tsingbuy Industry Limited.If you want to re-print/re-release it or parts of it in other place, please mark out its source and link to our website. 
Part One: Four Kinds of Materials for Making Baking Tray
Baking is the main method of making food. But before baking, how to choose a baking tray of differnent raw materials, which is in close relationship with the food? Today we'll share you to the information of differnt materials of baking trays.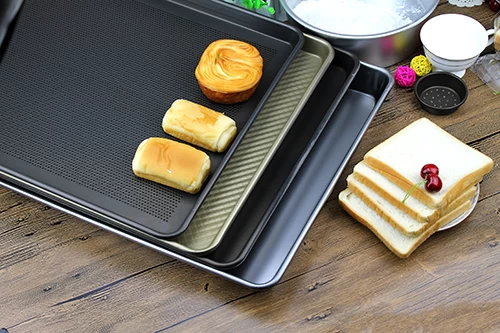 1. Graphite baking tray
Graphite baking tray is a new type of low carbon environmental protection baking tray. Graphite is an allotrope of elemental carbon, also known as carbon household goods and carbon-based goods. Because it is composed of carbon atoms and has stomata, it has strong adsorption capacity and can absorb odors and impurities. At the same time, graphite has fast heat transfer and strong thermal conductivity. When baking food, it will shorten the baking time and make the food heated uniformly, more convenient and fast. In terms of safety and convenience, graphite can emit infrared rays in high temperature environment, while heating food, it can retain its moisture, and baked food is more delicious. Of course, in terms of cleaning, not sticky, not sticky oil. Therefore, it is convenient to wash, wash with clean water and wipe with cloth. It does not need to be washed and cleaned, thus eliminating the complicated cleaning process.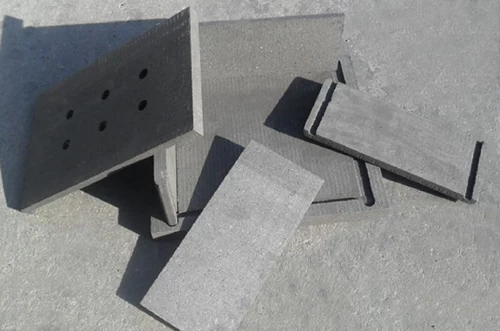 2. Silicone baking tray
Silica gel baking tray is one of the most common baking trays in our daily life. The advantages of silica gel baking tray are: the products of silica gel are slightly better in appearance, rich in color, and can make all kinds of moulds. At the same time, silica gel has good stability and chemical inertia, non-sticky, easy to clean. The daily necessities involved are all food silica gel products, which meet certain labeling (FDA food standards), but the quality of silica gel products on the market is uneven and the price is different, so we must choose certified silica gel baking dish products.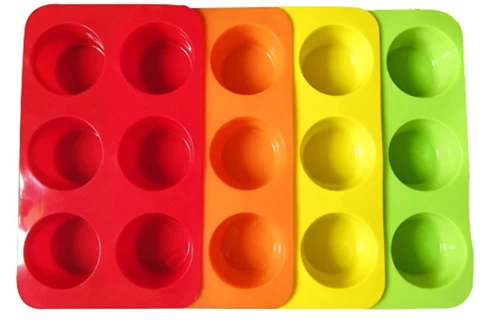 3. Glass baking pan and ceramic baking pan
Glass baking pan has high transparency, and ceramic baking pan has beautiful appearance. It has high appreciation value in appearance. The baked food is more attractive in appearance and enhances appetite. The advantages of the two types are that they are easy to clean, do not leave dirt, and do not cause deformation and discoloration after long time use. At the same time, ceramics and glass have good thermal conductivity and high temperature resistance. But the defect is that unqualified glass and ceramics may contain lead, and compared with other grills, glass grill and ceramic grill are really "big tonnage" of fat.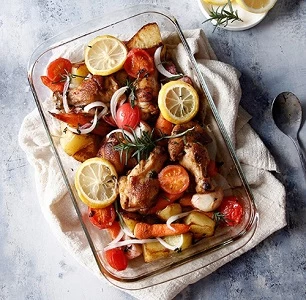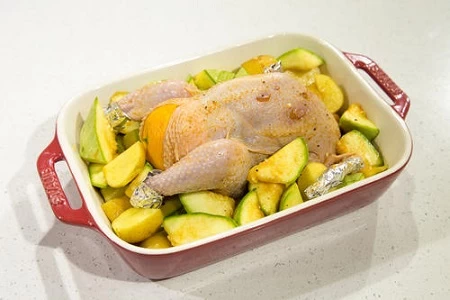 4. Metal baking tray
Metal baking tray is one type of the most commonly used baking trays in our life. Metal such as aluminum alloys are ubiquitous in industry and life. The advantages of metal baking tray are low density, high strength, good plasticity, excellent thermal conductivity and corrosion resistance, and easy cleaning.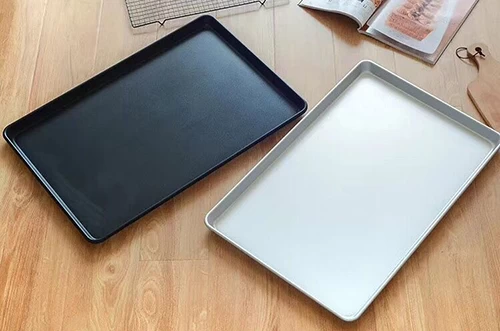 Part two: Types of Metal Material
The material of baking tray plays an important role in the heat conduction process of baking. Different metal materials have different thermal conductivity.
Usually, metal baking pans are used, but silicone baking pans are also a good choice. Silicone baking tray is easy to operate and does not adhere to dough. But its disadvantage is that the heat transfer is not as good as the metal baking pan. The lack of heat leads to the finished product color. For example, when baking muffin with silica gel baking tray, the cake may easily appear gray-white color.
On the contrary, the use of metal baking tray has good heat transfer and can bake the edge of the cake into golden yellow. Because heat can act directly on the pastry through the baking pan, the part near the inner wall of the baking pan can be golden yellow and form a crisp skin. The metal material of the metal baking tray is also different. Let's briefly introduce it.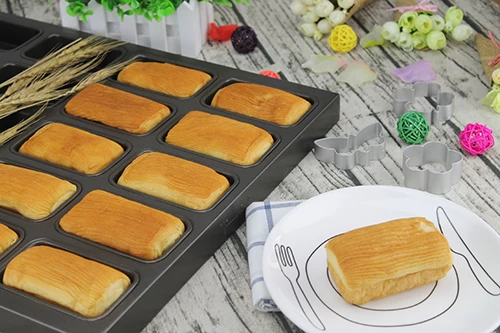 1. Aluminum
Features: Lightweight, very good thermal conductivity, resistant to many forms of corrosion
2. 3003 Aluminum
Features: Commercially pure aluminum with the addition of manganese, 20% stronger than 1100 grade aluminum, an aluminum often found in many residential applications, excellent corrosion resistance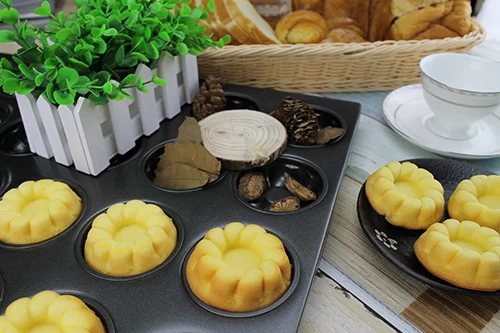 3. Aluminized Steel
Aluminized steel is the steel that has been hot-dip coated with aluminum-silicon alloy. It is the most common material of choice for professional bakers and has unique combination of properties possessed neither by steel nor by aluminum alone. In addition, aluminized steel has superior heat transfer, corrosion resistance and strong durability.
4. Cast Aluminum
Cast aluminum is the aluminum material that has gone through one of the several casting processes. It is thicker and harder than spun aluminum.
5. Carbon Steel
Carbon steel is the steel that is not stainless steel buy may include alloy steels features. It is harder and stronger than aluminum with excellent heat transfer. It can achieves and maintains both very low and very high temperatures faster and more easily, making these pans a highly effective and versatile cooking piece
6. Non-Stick types
A non-stick surface is a surface that reduces the ability of other materials to stick to it. It can be added to aluminum, aluminized steel, carbon steel, or cast aluminum but does not affect the characteristics of the metal itself.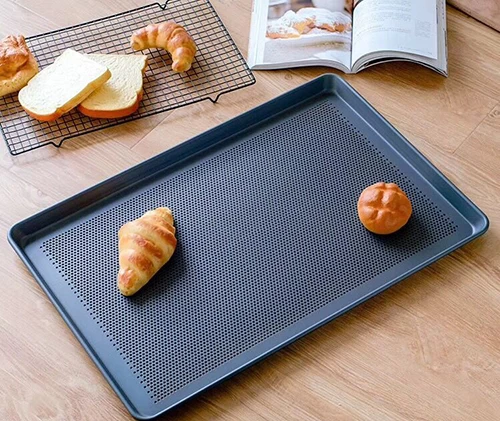 Of course, no matter what kind of baking tray you choose, firstly you should pay attention to food safety; secondly, depending on the type of cake, different cake needs different baking tools; finally, you need a pair of gloves to protect you from scalding when you take out the baking tray.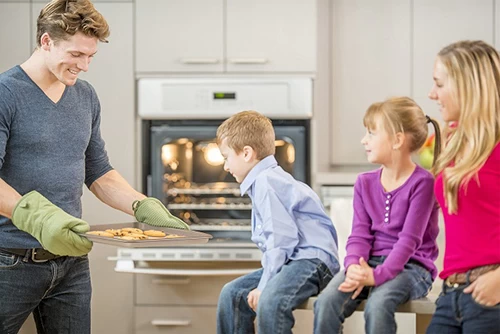 Part three: About us
We are the leading China bakeware manufacturer and has been striving to producing the best baking products, raging from sheet pans, loaf pans/toast tins, baguette trays, OEM industry cup trays, bakery trolley, cooling rack and many other series of bakeware tools to baking related tools like banneton baskets, PP baskets, bakery couche, baking mat and so on. We have many successful and pleased customization cases by cooperation with International customers.
What is more important, our factory ability to customize bakeware in China helps you grasp opportunities in your market and makes you much more competitive in price. In other words, we are absolutely professional and reliable OEM full sheet pan supplier, Baguette tray manufacturer China, China bakery rack factory, Multi-mould pan manufacturer China, strap loaf pan supplier, cooling rack manufacturer in China - a full-scale China bakeware manufacturer producing many other baking related series.