What is silicone baking mat?
Zoe Lee Tsingbuy 2019-07-09 20:46:14
Silicone Baking mat is a kind of product which can prevent sticking in the process of baking. The quality of silicone baking mat is much better than the traditional ordinary quality mat.  For example, silicone baking mat is a reusable alternative to parchment paper. Just pop one silicone baking mat into a baking sheet and you instantly have a nonstick baking surface that you can use, wash, and reuse. Silicone baking mat is very simple to use. High-qualified silicone baking mat can be used normally only by putting the product itself in the baking tray.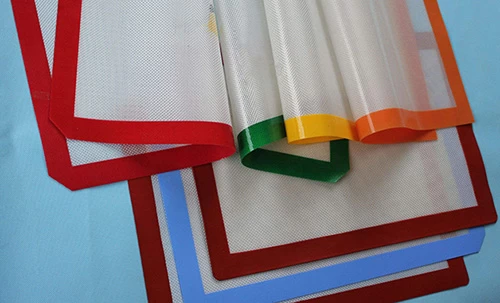 After using the silicone baking mat, it is also very exquisite to clean it. Good cleaning method will increase the service life of the silicone baking mat, and the use times of the silicone baking mat can also increase. Generally, high-qualified silicone baking mat can use 5000 times or even more times. The silicone baking mat used for baking tray belongs to the high temperature resistant baking mats. This kind of mats can withstand the temperature of the baking tray. Thus, when we buy the silicone mats we should first know whether it can be put onto the tray for baking or just only being used as mats for kneading the dough.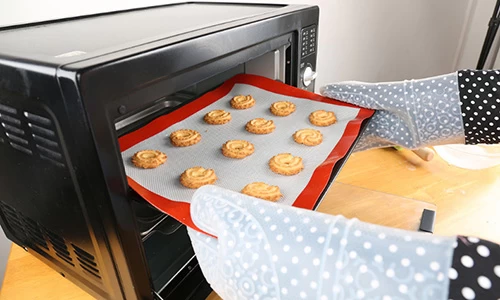 Silicone baking mat is also very convenient to clean. We only need to soak it in warm water and then wipe them. We can clean them without using many procedures and materials. Or we can use some chemical materials to clean them, such as detergent or soap. however, this cleaning method can not be used usually, otherwise, it will damage the silicone baking mat on the surface, so we need to pay attention to it when we use it.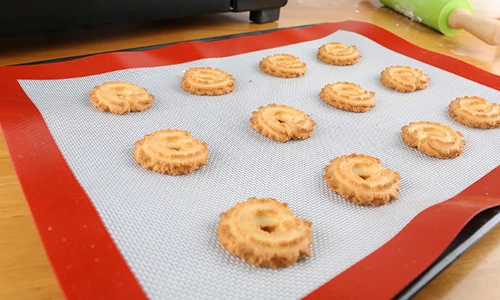 It is a normal situation that silicone baking mat turns yellow over time. It will turn yellow more easily if it is used too long or the temperature is too high. Acturally we need not worry too much about yellowing will lead to problems. Generally, as long as the product we use does not appear sticky again, there will be no big problem. After all, yellowing will not lead to bottom nourishment. The silicone baking mat production process is very much and each one is produced to be used more than 5,000 times or even higher. Not only will the silicone baking mat yellowing, but also the silicone kneading mat and the silicone steaming mat will have this situation.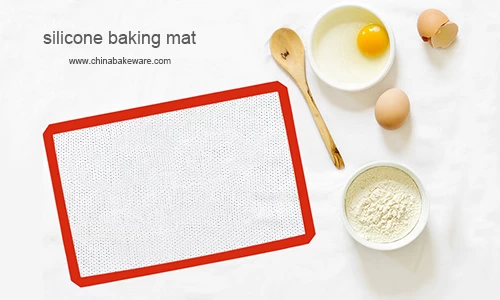 About us
We are the leading China high quality bakeware manufacturer and has been striving to producing the best baking products, raging from sheet pans, loaf pans/toast tins, baguette trays, OEM industry cup trays, bakery trolley, cooling rack and many other series of bakeware tools to baking related tools like banneton baskets, PP baskets, bakery couche, baking mat and so on. We have many successful and pleased customization cases by cooperation with International customers.
What is more important, our factory ability to customize bakeware in China helps you grasp opportunities in your market and makes you much more competitive in price. In other words, we are absolutely professional and reliable baking sheet pan supplier, French baguette tray supplier, China stainless steel trolley supplier, China industry cup tray factory, multi-mould baking tray manufacturer, China single loaf pan and customized strap loaf pan factory, stainless steel cooling rack factory in China - a full-scale China high quality bakeware manufacturer producing many other baking related series.