What is natural slate dinner plate
Zoe Tsingbuy 2019-08-16 15:20:11
Tsingbuy Industry Limited has engaged in bakeware industry for more than 12 years. After year by year in production, research, developing in bakeware, we now have became the leading and professional customized bakeware supplier. Our main products covers from sheet pan, baguette tray, loaf pan/toast box, multi-mould baking tray, bakery trolley, cooling racks, cake pans and then to banneton bakets, PP baskets, Pizza stone and other baking related tools.
Today we are going to introduce you a kind of slate cutlery from our brother factory.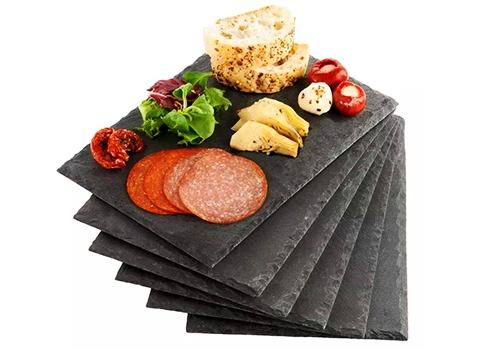 Natural slate and rock materials can be used to make handicraft because of their unique material characteristics and long-term preservation value. For example: slate dinner plate, slate tea plate, slate key chain, slate business card clip, slate candlestick, etc. Nowadays, more and more slate dishes are used in high-end gathering and entertainment bases such as high-end restaurants, cafes, five-star hotels and catering areas, which are favored by customers at home and abroad.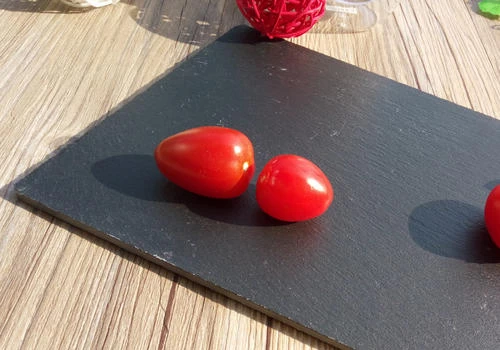 Natural black slate dinner plate has beautiful, durable, heat insulation, low carbon environmental protection and other characteristics. In France, Britain, Sweden, Korea, Dubai, the United States, Australia, Germany, Spain, Switzerland, Norway, Finland, Canada and other countries they are becoming more and more popular.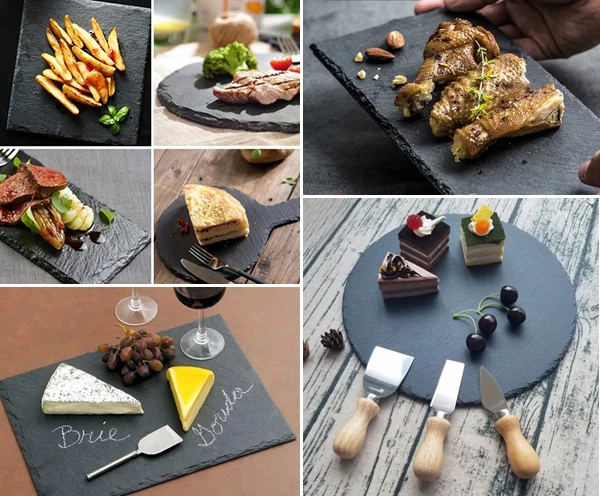 Related Recommendation: Black Ceramic Pizza Baking Stone
From China pizza baking stone factory
Natural slate contain many microelements. Especially in Europe and the United States, it is a kind of very popular stone tableware. It can ensure that nutrients are not lost in diet and supplement of various microelements needed by the body.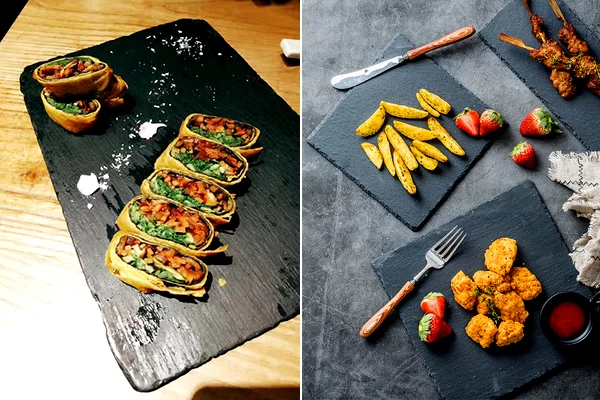 Our brother factory produces various shapes of natural slate dinner plate with standard sizes, like round, rectangle, square, heart-shaped and so on. The natural slate edges can also be made differently with slab plate edge processing (straight edge + rough edge or called machine-made edge) and slab surface processing technology (Wire Drawing, Slotting).

All of the above is the information we introduced about natural rock slate dishes. At the same time, we also want you to know that Tsingbuy is also an experienced pizza tools supplier providing stone baking products too, such as pizza stone, which is one of our major product lines. We supply both ceramic and cordierite pizza stone in round shape, as well as rectangle, square shape, in different thickness. And customized size and thickness is also welcomed.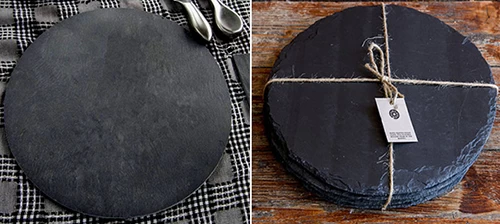 Contact us
If you are in the market for ceramic/cordierite pizza stone or natural slate rock dinner plate, contact us.