What is Stainless Steel Strainer?
Zoe Lee Tsingbuy 2019-07-25 18:45:24
Today we would like to recommend a delicate and light flour strainer. It comes out with red anti-skid handle design, not easy to slid off your grasp when shaking it for straining. It is very convenient and practical to strain flour, fish noodles out of water and filter fries. Especially, its screen mesh is uniform and fine, the welded silica handle and high-quality stainless steel not easy to rust. Everyone likes baking deserves one. Here is the features as bellow: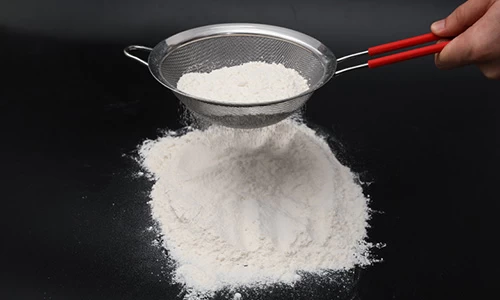 - Stainless steel fine mesh round strainers are perfect for sifting and straining wet or dry ingredients. All sizes feature a sturdy outer mirror finished broad rimmed framework design, and have rust-proof firm fine mesh strainer screens with securely attached long handles. They contain a wide resting ear design for extra stability. Our durable and sturdy strainers are built to last for a lifetime.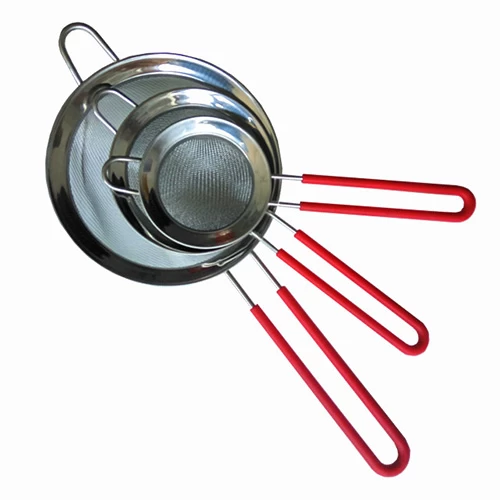 - 3", 4", 5.5" and 8" strainer sizes, which are the most popular and preferred sizes needed to handle all your straining, sieving, sifting, filtering and rinsing tasks
- Easy to clean and dishwasher safe.
- This stainless steel strainer are great for sifting and filtering out impurities and breaking up clumps in dry ingredients like flour, sugar and spices. Also use them for rinsing fruits and vegetables or fine grains and pastas like quinoa, rice and orzo. Strain thick or thin wet ingredients like sauces, lumpy gravy and yogurt or for removing seeds from squeezed fruit juices.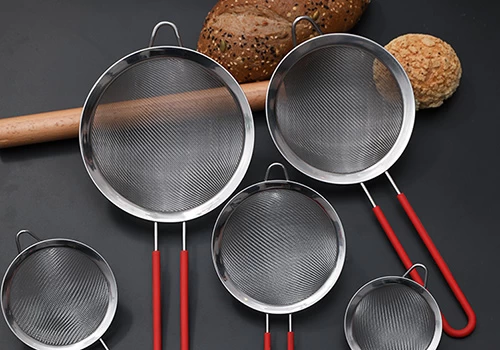 - Anti-skid off with silicone handle: the non-slip silicone handles design support you in even the slipperiest of situations and protect your hands from heat and also ensures your strainer stays in your hand.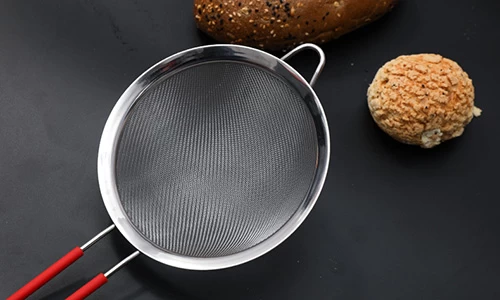 About us
Tsingbuy Industry Limited is the leading China bakeware manufacturer with more than 12 years engaged in bakeware industry. We have been always striving to producing the best baking products, raging from sheet pans, loaf pans/toast tins, baguette trays, OEM industry cup trays, cooling rack. We dare to say that we are rich in experience as China cake tools supplier, French bread baking tray, baking sheet pan supplier, China oven rack manufacturer, loaf pan manufacturer, customized strap loaf pan supplier, Multi-mold baking tray supplier, We also supply various accessories to enhance your efficiency on baking related jobs. We have many successful and pleased customization cases by cooperation with International customers. Coming to us is absolutely a best choice for us to get win-win profits.
Contact us
If you need this pattern of stainless steel flour strainer in wholesales and at low price, contact me by the following ways.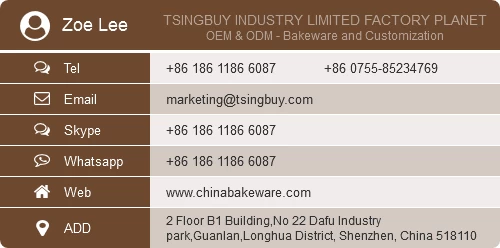 Main products from Tsingbuy China bakeware manufacturer