Little but Smart Gadgets for Baking
Zoe Lee Tsingbuy 2019-07-30 12:09:54
Today, let's introduce some necessary baking gadgets. Do these gadgets greatly reduce your labor and improve your work efficiency? People who usually baking and don't already have these gadgets, try them.
1.Weighing gadgets
E-weighing: we advise novice not to buy spring weighing. You can directly spend a little more to take the electronic weighing home, as you can weigh the smallest weight of 1 gram, and it has the function of peeling, which is fast and efficient.
Measuring cup: used to measure liquid materials
Measuring spoon: tablespoons for different amount (15CC/5CC/2.5CC/1.2CC) respectively.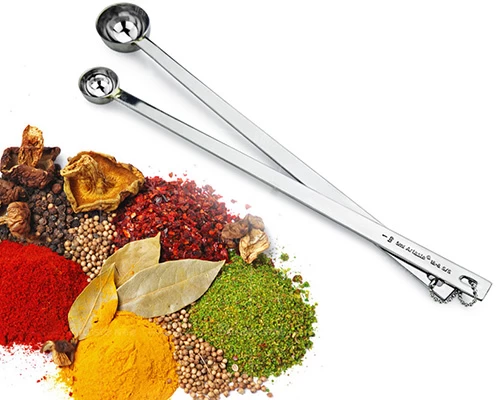 2.Blender
There are also many various blender tools, such as for eggs, dough, pastry. All these blenders is designed for certain purpose. However, they are to save your labour and time, enhancing working efficiency.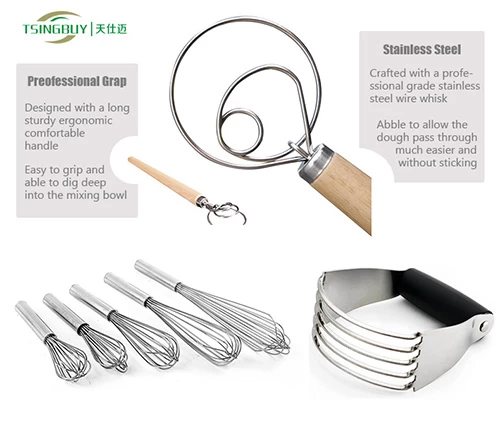 3.Screen/Strainer
It can be used for sifting powder. Avoid caking when mixing with other materials, and increase the fineness of the taste. It can be prepared in large or small size. Small size can be used to sift cocoa powder and green tea powder and sugar powder on the surface of pastries for decoration. It is better to choose a more compact hole.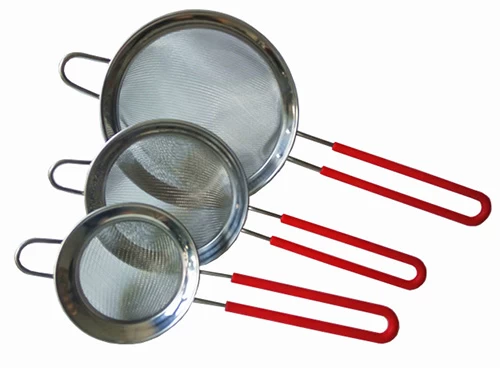 4.cake decorating
Piping bag: There are reusable and disposable piping bags. It is necessary to make butter cake decorations. It can also be used to making cookies like Danish cookies. But it is recommended to use cloth piping bags, as it is strong and won't burst.
Piping nozzle: used for filling or decorating cakes
Connector: used for connecting piping bags and piping nozzles. First, put in the piping bag end. Then put on nozzles. You can use only one piping bag to match with all kinds of nozzles.
5.Baking molds
Toast tin, tart ring, muffin mold, cake pan are the most basic baking mould. You can also find many other mold with wonderful and excellent-performance shapes from Tsingbuy multi-mold baking tray manufacturer.
6.Other gadgets
Oven Mitt: help you taking hot baking food out of oven, some are even high temperature resistance to 300 degree.
Cheese Cloth: to filter cheese for more delicate texture, can be also used to strainer juices.
Roller Cutter: to cut PIZZA or whole dough. Cut straight or wavy lace. Previous windmill biscuits. Cut lace with wavy wheel knife.
Rubber Scraper: used for mixing batter materials. It can also scrape the materials in the conditioning basin clean. It can also wipe flat paste surface. It is necessary!
Silicone Baking Mat: used on baking tray, saving oil and parchment paper. Saving cleaning jobs.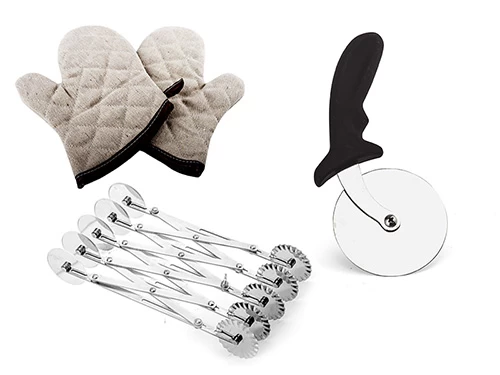 Are there any other baking gadgets that you think convenient and smart for your jobs? Tsingbuy is a professional bakeware manufacturer, who has engaged in bakeware industry for more than 12 years. You can definitely find your satisfying tool and customized tools with us.
About us
We are the leading China bakeware manufacturer and has been striving to producing the best baking products, raging from sheet pans, loaf pans/toast tins, baguette trays, OEM industry cup trays, bakery trolley, cooling rack and many other series of bakeware tools to baking related tools like banneton baskets, PP baskets, bakery couche, baking mat and so on. We have many successful and pleased customization cases by cooperation with International customers.
What is more important, our factory ability to customize bakeware in China helps you grasp opportunities in your market and makes you much more competitive in price. In other words, we are absolutely professional and reliable sheet pan manufacturer, baguette tray manufacturer, bakery rack supplier, multi-mold baking tray manufacturer, pullman loaf pan manufacturer, wire cooling rack manufacturer, China cake tools supplier, China pastry tools supplier - a full-scale China bakeware manufacturer producing many other baking related series.
Contact us