Custom Manufacturing of Baguette Tray
Zoe Tsingbuy 2019-10-17 12:35:57
Here we would like to make a brief introduction to how to custom baguette tray. The following is only for the general situation of tsingbuy French baguette baking pan manufacturer. Genarally speaking, any size of baguette tray can be customzied if there is no strict demands on row size.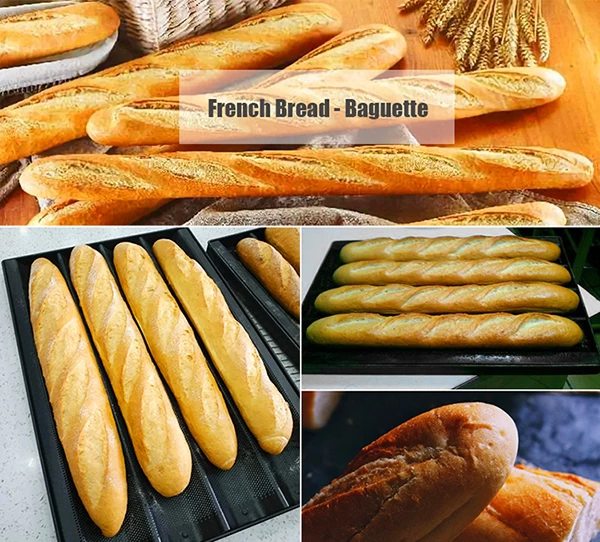 First, let's have look at material options. There are aluminum, aluminum sheet with stainless steel frame, stainless steel, and carbon steel. The last one is for home use and our factory almost no longger produce.
Second, about the type, there are simple frame, strengthening frame, full envelope frame, and stainless steel wire mesh tray.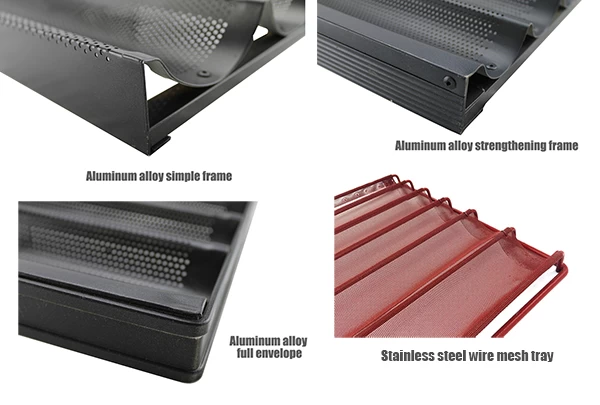 From French baguette baking pan manufacturer
Third, as for the size, 400*600mm, 460*660mm and 600*800mm are the best-sellers. We recommend stardard sizes of aluminum sheet with stainless steel fram baguetter tray to orders of less than 200pcs. We can make custom manufacturing at any size of the tray if you have no strict demand on row sizes(length, width and height). On the contrary, the factory need to make new production mold for required row size, which the custom should pay new production mold fee for it. Although tray size and row numbers can be customzie, according to the factory experience we recommend the row length should not exceed 100cm and it is best to keep within 90cm.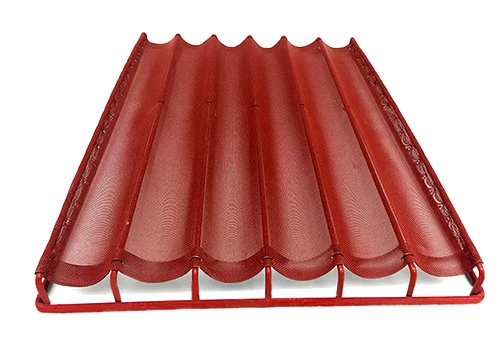 From French baguette tray manufacturer
Fourth, the diameter of the holes on the tray sheet is usually 2mm. We can make it to 3mm if required. The high density of perforated holes is conducive to the absorption of full steam by the baguette, which can make the baguette taste crispe outside and soft inside.
Fifth, we recommend silicone coating for surface treatment for baguette tray.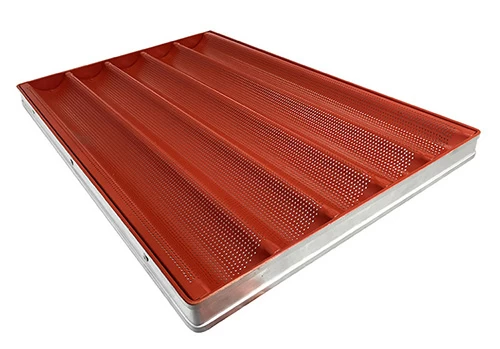 From 【perforated baguette tray factory】
https://www.chinabakeware.com/products/5-rows-rubber-silicone-baguette-tray.html
The last, connection between the baking sheet and frame are by welding and rivets. If the material of sheet and frame is the same, welding is available and can provide better durability. If the sheet material is different to the frame material, rivets are used to connect the sheet and frame. Usually, the thickness of the aluminum sheet is 1.0mm, however, 0.8mm/1.2mm/1.5mm can be also customized.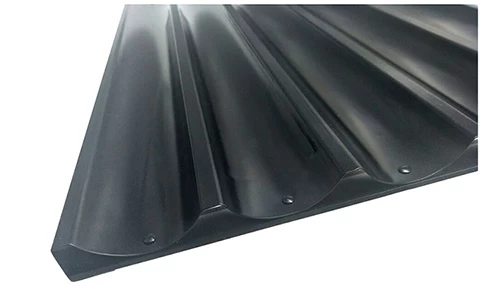 That is all the custom info on baguette tray customization. If you have more quations, feel free to contact me at anytime.