Disposable plastic pastry bags
Zoe Lee Tsingbuy 2019-06-14 08:45:37
A pastry bag (or piping bag in the Commonwealth) is often in cone shape or triangular shape. It is usually a hand-held bag made from cloth, paper, or plastic that is used to pipe semi-solid foods by pressing them through a narrow opening at one end, for many purposes including cake decoration. It is filled through a wider opening at the opposite end, rolled or twisted closed, and then squeezed to extrude its contents.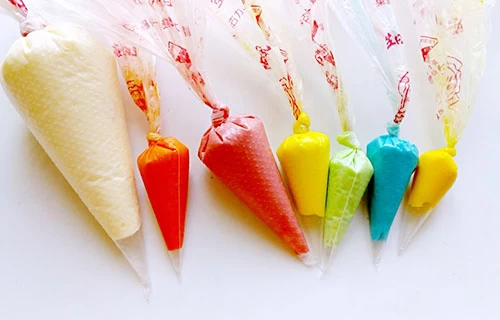 Though a circular nozzle is quite useful for making round shapes and for filling pastries such as profiteroles, many nozzlesin various shapes are commonly used to produce star, leaf, and flower-petal shapes
Aside from icing, pastry bags are commonly used to shape meringue and whipped cream, and to fill doughnuts with jelly or custard. They are used to form cream puffs, éclairs, and ladyfingers. When presentation is especially important, fluted tips can be used to shape savory foods such as filling for deviled eggs, whipped butter, and mashed potatoes (especially for Pommes duchesse).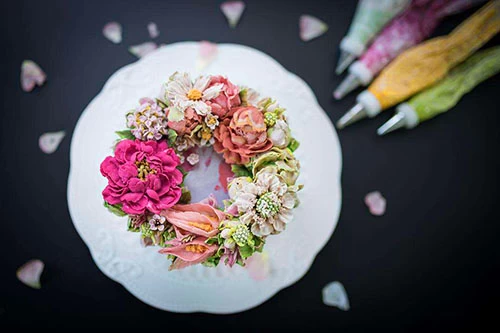 A high-quality reusable icing bag is often made from tightly woven nylon, polyester, rubber or waterproofed (plastic-coated) cotton. Medium quality icing bags are similar, except they are not so tightly woven and may let some contents seep through the weave or the seams. After use, a reusable bag is washed by hand and hung open to dry. China pastry bags supplier - Tsingbuy Industry Limited released a pattern of TPU decorating piping bags for Pastry/Cake/Cupcake/biscuit/cookies/chocalate/pie etc.  which is in high quality, thick, soft, reusable and durable. A high-quality bag may last for many years.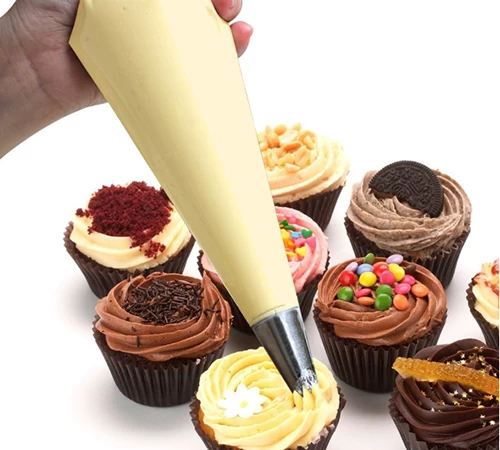 Pastry bag users who do not have a dishwashing machine may prefer to use disposable piping bags, and thus avoid hand-washing messy bags. Disposable pastry bags are ready-made in inexpensive plastic. A plastic food storage bag is also commonly used as a pastry bag. For small quantities and fine piping, pastry bags can be made by rolling cooking parchment or wax paper into a cone, filling it, folding the wide end several times to close it, and then cutting the tip into whatever shape is desired. This is especially useful for small quantities of melted chocolate, since a very small hole can be cut and the bag can be discarded when it cools and becomes clogged.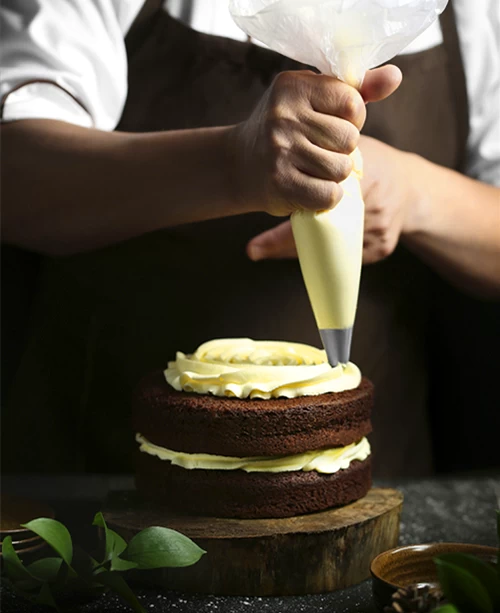 Tips come in sets of interchangeable pieces. Expensive tips can be purchased one at a time. They may be chrome-plated or stainless steel, or plastic. Each tip is cone-shaped, with a base too large to fit through the small opening in the bag; they are to be inserted through the larger opening before food is spooned in. Tips can be used with pairs of adapter rings: an inner ring is dropped inside the bag and pushed part way out the hole, a tip is slipped over the ring, then an outer ring is slipped over the tip and screwed onto the inner ring. This permits the tip to be changed without emptying the bag. Some inexpensive sets are of disposable plastic film with a drop-in ring and screw-on plastic tips (see image above). Many foods (including frosting and pressurized "spray can" whipped cream) can be purchased in disposable packaging designed to serve the function of a pastry bag.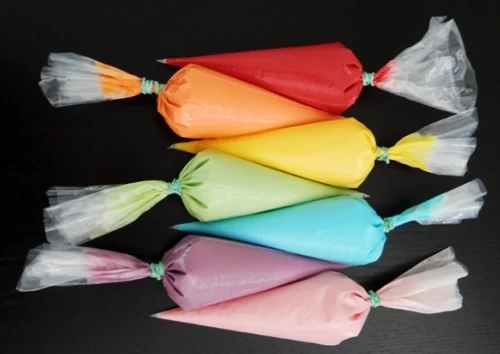 So during the daily sales we recommend this disposable pastry bags made of poly plastic by Tsingbuy professional China cake tools supplier to customers, as it has below advantages:
Easy to operate
To use our disposable icing piping bags, you simply just need to cut the bottom corner off with some scissors and insert your piping nozzle inside. Put your piping bags inside a tall glass and fold the edges over so you can fill your disposable piping bags up easier. It's so simple!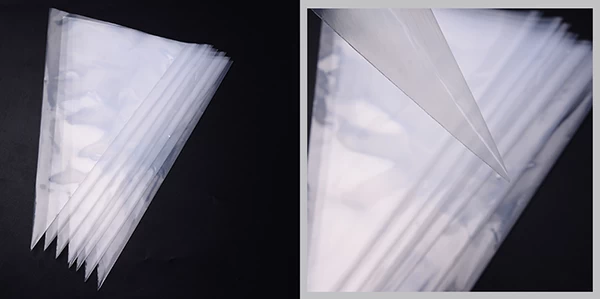 Easy to cleaning
All the pastry bags in our set are disposable, which means less washing up for you! These piping bags are so hard to clean so save yourself some time with our disposable pastry bags. It will take you a while to get through 200 piping bags!
Disposable piping bags made of poly plastic
The plastic material is very strong and durable. This means our plastic piping bags can hold a lot of batter without splitting. Your icing work will be very neat and tidy with the use of our icing bags. Your bakeware supplies kit won't be complete without this bulk icing piping bags set!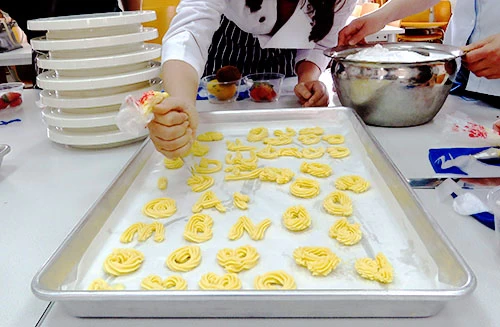 Tsingbuy is an experienced China bakeware manufacturer and China cake tools supplier. We are supplying pastry bags which are made of 80 micron thickest food grade plastic, which is the most durable and strong disposable piping bags you can find in the market. We also accept customized size and customized thickness if the order quantity are more than 250000pcs.
Contact us